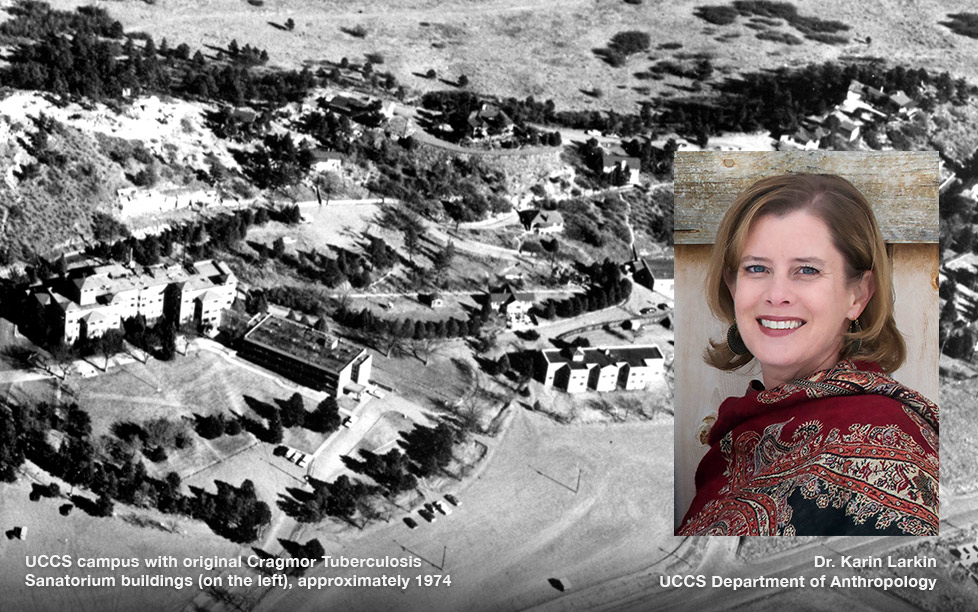 Tuberculosis has plagued humans for thousands of years – and with no known cure until the discovery of Streptomycin in 1944, 19th and 20th century physicians prescribed "rest cures" for patients with tuberculosis in sunny climates with clean air.
As a result, wealthy patients sought the best care they could afford, and hundreds of flamboyant writers, artists and Broadway performers "chased the cure" for tuberculosis all the way to Cragmor Sanatorium in Colorado Springs. Now, it forms the foundation – both physically and figuratively – of the UCCS campus.
Dig into this history and more in "Chasing the Cure: The Archaeology of Cragmor Tuberculosis Sanatorium," a virtual lecture presented by Karin Larkin, assistant professor of anthropology, in honor of Colorado Springs' 150th anniversary.
Larkin presented archaeological research on the sanatorium's original history – from physical objects that can help us to understand the alternative healing strategies practiced by the sanatorium's patients and doctors, to historical records and archaeological testing that illuminate the facility's history.
The event took place Thursday, March 18 from 5:30–6:15 p.m.
All members of UCCS and the community are invited to join in the celebrations of Colorado Springs' 150th birthday – its sesquicentennial anniversary – through programming leading up to July 31, 2021. Learn more about UCCS' celebrations online.
---
Karin Larkin, assistant professor of anthropology and director of Museum Studies and Gallery Practice, has nearly 25 years of archaeological and museum experience in the US West and Southwest. Her research focuses on decolonizing methodologies, understanding community interactions, archaeologies of health and tourism, social change, and negotiating social discord through material culture. She is co-editor of "The Archaeology of Class War," published in 2009 by University Press of Colorado, and has published numerous book chapters and articles on archaeology throughout the west and Southwest.
Learn more about Larkin's research, the Department of Anthropology and the College of Letters, Arts and Sciences online.