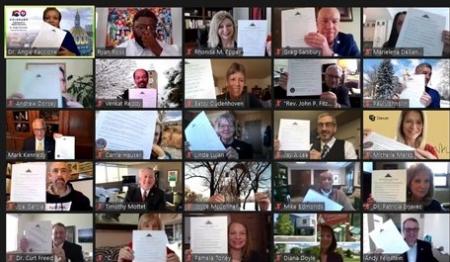 March 15 will now be known in Colorado as Educational Equity Day after Governor Jared Polis brought together leaders in education across the state, including UCCS Chancellor Venkat Reddy, for its first-ever Educational Equity Day of Dialogue.
The virtual gathering brought together leaders across institutions to map out a course to systematically break down disparities in access and equity among Coloradans of color.
According to the Colorado Department of Higher Education and Colorado Equity Champions Coalition, the mission is to "create a Colorado for all."
Following the discussion, led by Gov. Polis, state Representative Leslie Herod, Angie Paccione from the Colorado Department of Higher Education, Wil Del Pilar from the Education Trust, educational leaders across the state, including Chancellor Reddy and CU President Mark Kennedy, signed an Educational Equity Day commitment. Nearly 60 organizations signed the pledge.
The commitment acknowledges educational attainment gaps for Coloradans of color, as well as gaps in college-going rates, and workforce earnings. The goal of dedicating a day to the initiative is to keep a focus on equity and bring equity to all regardless of race and ethnicity, gender and identity, income, ability and sexual orientation.
The state-wide movement aligns with the UCCS campus initiative to support equity, diversity and inclusion.
"Our work to strengthen a culture of equity, diversity and inclusion at UCCS takes many forms. It requires commitment, thoughtfulness, patience and compassion," said Reddy.
UCCS will take part in the plan moving forward to implement strategies to promote enrollment and degree completion to reduce equity gaps.
"Our UCCS community will continue its critical work, under the leadership of Interim AVCEDI Stephany Rose Spaulding, of fostering a campus, community and society where equity, diversity and inclusion are valued and cherished by all," said Reddy.