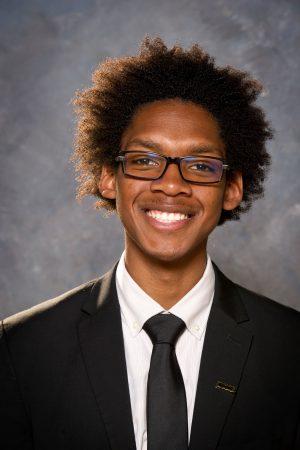 Philip Oke-Thomas has learned a lot about politics and people during his time at UCCS. So much so that he is receiving this year's Ron Wisner Human Spirit and Leadership Award.
Since 2011, UCCS has been giving out this award to one outstanding student leader of any grade level who has helped their fellow students in humanistic ways. This special merit was created to honor former Dean of Students, Ron Wisner, who died in a cycling accident in 2009. Like the recipients of this accolade, Wisner was a positive leader who saw potential in every human being.
The very human-minded profession of politics is what drew Oke-Thomas to UCCS from Springfield, Missouri in 2017.
"I've always been super interested in international politics and the program at UCCS allowed me to focus on that while keeping my political science degree," Oke-Thomas explains. "All of these classes weren't offered to me at my hometown university."
Given his passion for politics, Oke-Thomas dove right into UCCS' many student organizations, including College Democrats, the Black Student Union, Student Government Association, and the Multicultural Office for Student Access, Inclusiveness and Community.
"When I first started here my goal was to get involved, because I didn't know anybody," Oke-Thomas says. "Clubs and organizations really allowed me to meet people."
These organizations also gave Oke-Thomas the opportunity to lead diverse groups of students and work on inclusivity initiatives, which helped him get elected SGA vice president during his senior year. In this role, Oke-Thomas broke new ground for UCCS' diversity and cultural recognition.
"To me when you get to know peoples' cultures, you get to know them more," Oke-Thomas says. "I feel like that helps you be a more well-rounded leader."
According to Brad Bayer, senior executive director of student life, Oke-Thomas' dedication to cultural inclusivity is what inspired Jesse Perez to not only give Oke-Thomas a job coordinating events, but nominate him for the Wisner award. To both Bayer and Perez, nothing captures the human spirit more than working to bring others together.
"Philip is highly engaged in student life," Bayer says. "His style of leadership sets him apart because he ensures a connection for every student, which is our motto in student life."
Upon graduation, Oke-Thomas plans to stay involved with student life at American University in Washington D.C., where he will pursue his Master's of Arts in International Affairs Global Governance, Politics and Security. Before Oke-Thomas heads to the core of American politics, however, he is getting hands-on experience as a legislative intern at the Colorado State Capitol.
Out of all this, Oke-Thomas' dream job is to become the Secretary of State or at least work for the United Nations. But right now, he will take a breath and contemplate the value of this award.
"Just hearing about it was a very big surprise," Oke-Thomas says. "I'm very honored to have this award and I think it's going to help me in terms of where I'm trying to go."