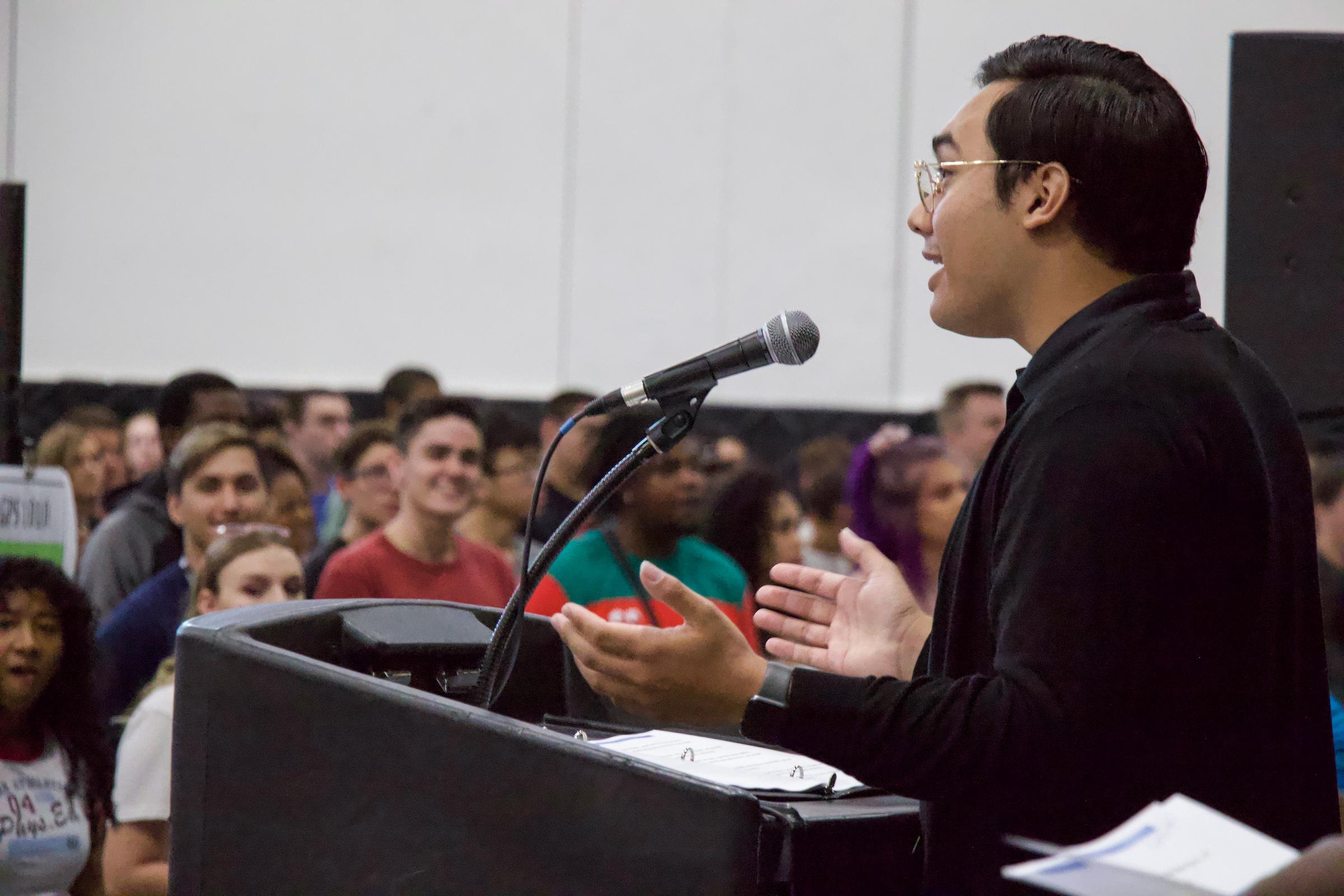 For JayJay Porcadilla, higher education wasn't just about learning, it was about finding himself. During his time at UCCS, he discovered that anything is possible, especially if you're passionate about it. Now he is being awarded UCCS' Student Achievement Award.
This award is given annually to two graduating students who have made either a significant personal accomplishment or substantial contribution to the quality of student life at UCCS while getting their degree.
Porcadilla began improving student life at UCCS after transferring in 2017 from the University of Northern Colorado. Before even being admitted, he applied to be a resident assistant and went on to become a Residence Hall Association member, the vice president of community service for his fraternity Delta Sigma Pi, a National Residence Hall Honorary writer, a Students Today Alumni Tomorrow executive board officer, and UCCS' Student Government Association president.
"I was thinking about how I can impact more students," Porcadilla says. "SGA elections were happening, so I ran and got elected."
When Porcadilla first started working in SGA, he had to convince himself and his peers it was the right move.
"There's a big stigma around people who are not a part of Student Government so, to just join in, it was a big learning curve," Porcadilla says.
UCCS' Coordinator of Civic Engagement Jon Bogh was impressed with how fast Porcadilla caught on. At first, he was timid and shy, afraid to speak to large groups but, eventually, he became a capable orator.
"JayJay has grown tremendously over the past year I have known him," Bogh said in his letter supporting the award nomination. "His drive for self-improvement and inclusive nature make him someone others want to be around.
Porcadilla's accepting nature is also what inspired him to help create an Inclusivity Pledge for the UCCS campus as SGA president. It's a reminder that not all people come from the same backgrounds. Growing up in North Carolina, Porcadilla was criticized for being the only person of color in many places, he says. Meanwhile, his mother has been fighting multiple sclerosis for years.
Despite these challenges, Porcadilla couldn't be more grateful for the support his mom has given him.
"She's had so many setbacks with this disease," Porcadilla explains. "She's had to relearn, talk, sit, stand at least three times in her life. I've never seen her complain or give up. She embodies strength."
Since 2009, Student Achievement Award winners have been asked to speak during commencement. This year, Porcadilla will address his classmates during the virtual ceremony at 1 p.m. May 15.
Given his newfound knack for public speaking, it's befitting that Porcadilla will be graduating with a Bachelor of Arts in Communication. With this degree, he hopes to work as a communications coordinator for positive organizations that help people, like the Children's Hospital or Make-A-Wish Foundation.
For now, he is looking forward to reflecting upon and celebrating his achievement award.
"Sometimes you don't look back at all your accomplishments, but sometimes you get to say 'I built this and It was incredible,'" Porcadilla says. "I wasn't searching for recognition, but it was unbelievably nice to get it for everything I've done."