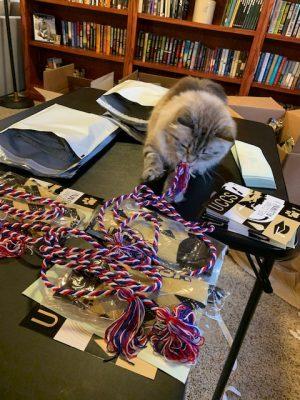 Amid the COVID-19 pandemic, many of the celebratory events and activities for graduating seniors have been cancelled due to public health concerns. But UCCS staff members from across the university have found creative solutions to honor the achievements of the Class of 2020.
Many of these creative solutions have come from the Alumni Relations office, which typically plays a large role in pre-Commencement festivities.
"It became apparent that this semester, we weren't going to be able to offer Grad Bash or other activities for our graduating students," said Lisa Bartholme, assistant director of alumni relations and annual giving. "But we still wanted to celebrate our graduates from afar and honor the connection that we normally build with them face-to-face over the three months prior to Commencement."
One way that the Alumni Association has found to honor graduates is by sending a care package – or "swag bag" – to their homes.
Over the course of weeks, the Alumni Association partnered with offices across campus to gather t-shirts, swag, class gift and legacy cords, cords recognizing military affiliation and other meaningful items for the packages. Each swag bag is personalized for the graduating student and includes a letter welcoming graduates into the 47,000-strong UCCS alumni body.
Much of that work has happened behind the scenes.
"For the last six or eight weeks, I've had swag bag stuffing parties in my basement with my husband and our two cats," Bartholme remarked. "So far we've sent out more than a thousand bags to our graduates. Every bag is customized, so it took a very elaborate labeling system. It took a week or so just to think about how to execute it."
Along with their registration for the bags, students had the opportunity to submit comments. Many of them simply thanked UCCS for the years they spent at the university. Others expressed sadness at not being able to walk at this spring's virtual Commencement ceremony – though all graduating students are invited to participate at either the December 2020 or May 2021 ceremonies – but also thanked offices on campus for finding creative ways to acknowledge their accomplishments.
"Thank you so much for making the normal events of the weeks before graduation possible," one submission read. "I felt like I was going to miss out on the excitement that I have seen others experience before graduating. Despite difficulties, you have helped me to feel both seen and celebrated. I really appreciate all of your hard work!"
Bartholme is simply glad to have made a connection with the Class of 2020.
"We're hopeful that these care packages established a connection and a touchpoint with the Alumni Association," she said. "Usually that work happens over three months on campus. We see them at Grad Bash, they visit our office, we talk to them when they pick up their legacy cords."
"We're hoping that in this new virtual world, our graduates felt a little love from our office, along with the acknowledgement that we all wanted to celebrate them in-person – and we still wanted to find a creative way to honor them and all of their accomplishments."
Graduating students who have not yet registered for a swag bag can still register for an alumni care package online. All graduates are encouraged to stay up to date with news and access virtual resources and support on the Alumni Association website.