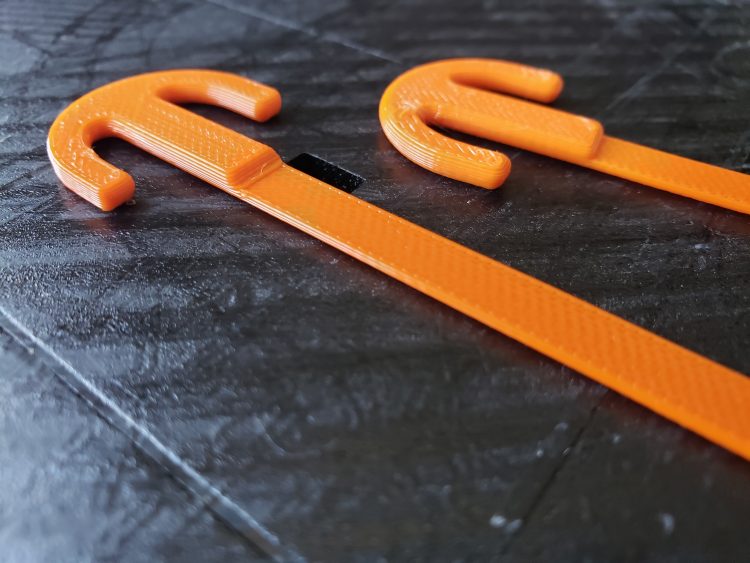 As much of the country adheres to safer-at-home orders, things haven't slowed down much for essential employees working for El Paso County's Department of Public Works. Essential employees continue to maintain roads, highways and bridges, complete construction projects and service county vehicles.
Their one complaint? Ear pain – aching, burning and pressure from the loops of the face masks they wear up to ten hours a day.
But thanks to UCCS faculty, staff and students, a county commissioner, several 3D printers and the efforts of the Colorado Springs community, El Paso essential employees now have access to something that can help: flexible plastic mask-hooks that wrap around the back of the head to relieve pressure on the ears.
"My employees are essential, but we're also not health workers, so we're a lower priority in some ways," said Scot Cuthbertson, executive director for the El Paso County Department of Public Works. "It's more important that our medical providers have masks, but I still needed to take care of my workforce, who are wearing face masks ten hours a day."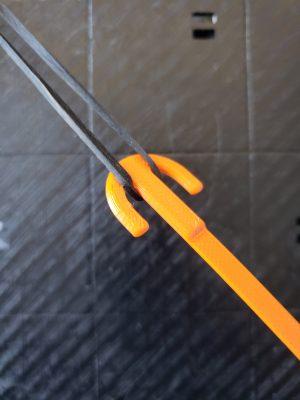 Cuthbertson connected with Kathrin Spendier, assistant professor of physics and a member of the UCCS BioFrontiers Center, as well as county commissioner Stan VanderWerf, who owns CEM-Tek, a Colorado Springs 3D printing company.
"Scot started tinkering with solving the comfort problem of face masks for his employees, and he started wondering if he could get them 3D printed," VanderWerf explained. "He sent me a design uploaded to a public domain site that I didn't think was anywhere close to adequate. I suggested that I could create a more robust design, more connected to our needs. I designed it, printed out prototypes, and after an iterative process we landed on a design that we thought would work for the county's employees."
Face mask-hooks have two major components: a flexible post that wraps around the head and two hooks to secure the mask's ear loops. VanderWerf's improved design features a thinner, more flexible post and wider hooks to accommodate homemade facial masks with ear loops of varying thickness.
Once they had landed on a design, Cuthbertson contacted Spendier, a 3D printing enthusiast, to seek her help in printing the mask-hooks.
"We have a 3D printer in our lab at the BioFrontiers Center, and I have a private printer at home," said Spendier. "When I heard about this project, I thought, 'I have the resources – I can help with this.'"
Spendier reached out to her student research assistant River Gassen and BioFrontiers operations manager Kristen Petersen for their help. Through their combined efforts, they printed hundreds of the new mask-hook design – on top of hundreds more that VanderWerf fabricated with his company's industrial printer.
"If you look at the designs that are available online, they are very bulky," Spendier explained. "They are about five times bigger and wider than this new design. It's so small that it fits underneath a helmet, and it only takes nine minutes to print. We printed hundreds of them in a week using just three printers."
On top of more than 700 donated mask-hooks from UCCS and CEM-Tek, Cuthbertson has received hundreds of donated face masks created by Colorado Springs' quilting enthusiasts and home sewers, which employees attach to the mask-hooks. They arrive to Cuthbertson laundered, sanitized and individually packaged so employees know they are clean and safe.
"Frankly, I am overwhelmed," Cuthbertson said. "I've pushed them out to all of my employees through the supervisor chain. I made sure that each of my employees has two, so they can wash one and wear one. Now I'm sending them downtown to the county writ-large so that all the county's departments can enjoy the fruits of this project."
Both Spendier and VanderWerf knew the project was a chance to give back to Colorado Springs.
"I thought to myself, 'It's time to do something good for the community,'" Spendier said. "3D printing was always something for engineers and people who are science-y, but now the community and world is realizing what a resource it is to be able to design, manufacture and 3D print something quickly if needed. All over the world, 3D printing has been at the forefront of making PPE where there are shortfalls. We are just one example of that."
VanderWerf added, "One of the things I love about our community is that political leaders, community leaders, businesses and schools all pull together in the same direction. What we have here is another manifestation of that."
"This is an emergency. We needed to get something done. And it was easy, because we like working together. That's the beauty of what happened here."
Those interested in volunteering to provide masks to essential employees can learn more at the Colorado Mask Project. Find out more information on the work of the UCCS BioFrontiers Center online.