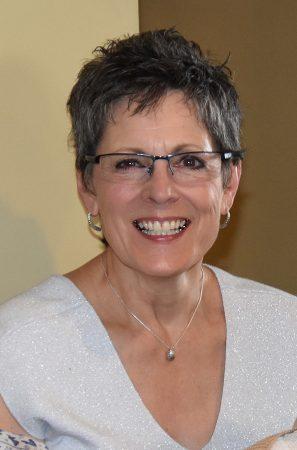 Jackie Crouch, instructional technologist in the Faculty Resource Center, is widely known for her work ethic – from handling support tickets before 4:00 a.m. to fielding phone calls from faculty members while on vacation in Africa. Her tenacity, solutions-focused mindset and grace under pressure earned her the Employee of the Quarter award from April through June 2020.
Crouch had her first encounter with UCCS in 1997. A non-traditional student, she started earning her bachelor's degree in nursing in her mid-30's. She graduated from the Beth-El College of Nursing and Health Sciences in May of 1997 – just a week before a public vote merged the college with UCCS.
After spending time working as a per diem nurse and in various medical offices, Crouch had a serendipitous meeting with Kathy LaSalla, then the graduate chair of nursing for the new Beth-El College of Nursing and Health Sciences at UCCS.
"She said to me, 'Gee, you're really good at this computer stuff,'" recounted Crouch, and then reconnected her with Carole Schoffstall, then dean of the college.
"Carole said to me, 'I think this online education thing is going to be really big,'" Crouch recalled. "This was in 1999. And she also told me, 'We were going to hire an engineering student to support our faculty and take care of the website – would you like to do that?'"
Crouch accepted the position in the college she'd graduated from, eventually helping it to become just the second college at UCCS to create a fully online degree program after the College of Business. She spent 15 years in the College of Nursing, where she supported its growth – from a college with bachelor's and master's degrees in Nursing program and degree programs in the health sciences, to a college that now includes clinical doctorate nursing degrees and one of the top online nursing graduate programs in the country.
Crouch moved to the Faculty Resource Center in 2014, where she now offers technological support to faculty members, staff and students.
She describes her work with the Faculty Resource Center as "bridging the divide" between what faculty, staff and student technology users need, and the language that keeps them from understanding what technological solutions are available to them.
"This is what I was born to do," she says. "This is my niche. My father is an engineer, my grandfather was a diesel mechanic, and I think my logical thinking comes from that part of the family. I love the challenge of it."
"The thrill in this work, for me, is to be able to break down the technology barriers for other folks – to clear the technological fog for them," she continues. "I love the relief of the furrowed brow disappearing after I sit down and ask them to tell me what's going on, and we collaboratively come up with a solution."
Crouch also helps the university make purchasing decisions for technology solutions – notably the transition from Blackboard to Canvas – and works with faculty to create understanding of what the university's technology platforms can bring to the classroom. Recently, much of her work has been devoted to helping UCCS move classes and laboratory experiments online in the midst of the COVID-19 pandemic.
She also takes calls – lots of them – at all times of the day and night.
"I do not exaggerate in stating that Jackie supports this campus seven days a week, 365 days a year – even while on vacation," wrote one of the faculty members who recommended her for the Employee of the Quarter award. "She is known regularly to be handling support tickets (putting out brush fires, wrestling with alligators, etc.) at 3:00 in the morning!"
"It is not uncommon for me to go to bed frustrated by some problem I've encountered," wrote another. "I leave an urgently emailed appeal for help with the FRC at about 2:00 a.m. and awaken at 6:00 a.m. to find the answer to my problem emailed back. I've literally called Jackie for help and she's responded from Highway 24, on her way for a ski getaway!"
"I don't think she ever sleeps," the letter concluded, "and there is no end to the people she helps."
When asked about her penchant for early-morning troubleshooting, Crouch just smiles, shrugs and agrees.
"It's true," she says. "I go to bed early and get up early. I've worked remotely from Africa, from New Zealand, from Norway, from Switzerland. As long as I've got a phone and an internet connection, I can troubleshoot just about anything."
What drives this extraordinary commitment to her work? Crouch says it's the memory of her mentor and friend, Carole Schoffstall – former dean of the College of Nursing, who passed away in 2014.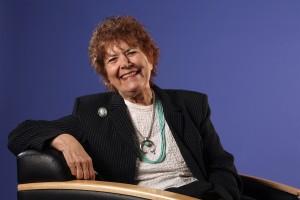 "Carole was the most wonderful, supportive, altruistic woman I have ever met in my life," Crouch says. "She was so supportive of me when I needed to get my graduate degree. She modeled a global view of campus, never just advocating for Beth-El, but asking, 'How does this fit in with the rest of the university's needs? What is the value for the whole university?' To this day, that's how I make purchasing and hardware decisions – always with an eye for a win-win, and always thinking about what is good for everybody."
She continued, "What drives me, every day, is, 'What would Carole do?' I would not be who I am today without having lived under her sphere of influence. She was an amazing woman."
Crouch shares that in the many search committees she's served on, candidates will often ask her what has kept her at UCCS for more than 20 years.
"I tell them, 'I'm a lifer. This is my last stop,'" she says. "The relationships I have here are priceless, and I'm doing the work I was meant to do. I love exactly where I am. I'm exactly where I'm supposed to be."
She continues, "The funny thing is that I didn't start down this path until I was in my 40's. So if you think you're supposed to have your life figured out in your 20's, you have no idea what adventures you might find. Always be open to the possibilities, and say yes whenever possible."
After more than six years at the Faculty Resource Center and 15 in the College of Nursing, Crouch is doing what she loves – and doing it well. So what's next for her?
"It gives my life meaning to be able to give back," Crouch says. "My life is beyond my wildest dreams. As long as I have breath and energy, I want to give back."
"The goals I've set, I've accomplished," she says. "There's just the big one left: leave UCCS, leave this place, even just a little better than I found it."
In recognition of her efforts for UCCS, Crouch will receive one day of administrative leave, a $100 stipend, three months of a free and reserved parking space when normal campus operations have resumed and a $40 voucher to the UCCS Bookstore. Congratulations, Jackie!
Do you have a colleague whose extraordinary efforts at UCCS deserve to be recognized? Nominate them for the Employee of the Quarter award.