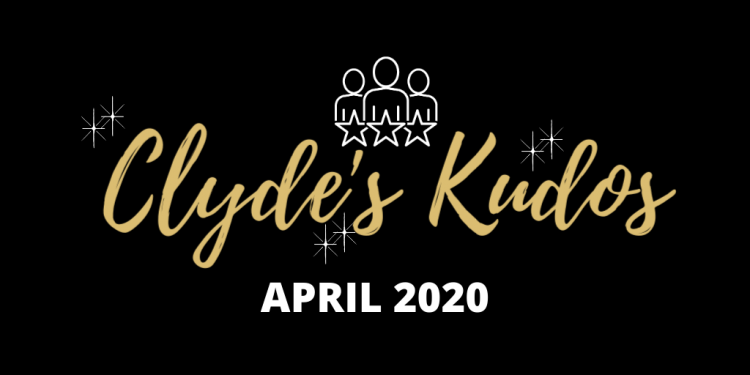 In the hustle and bustle of the school year, it's important to take a breath and celebrate our colleagues for their achievements – both big and small. This becomes especially important in challenging times such as during the COVID-19 pandemic, which has changed the way we live and work.
Kudos are celebrated each month on Communique. Nominations are also recognized through a variety of forums including the Staff Association website, the Staff Association newsletter, event shout-outs, handwritten cards and other methods of distribution.
Clyde's Kudos: April 2020
Featured this month:
Teams:
COVID-19 Call Center Staff | Career Center Student Employees | UCCS HealthCircle Primary Care, Peak Nutrition and Center for Active Living Staff | Campus Recreation and Wellness Promotion Staff | Wellness Center's Health and Mental Health Services Staff | Residence Life and Housing | Facilities Services | Dean of Students Office | Dining and Hospitality Services | Tracy Barber, Todd Casey & the Amazing Registrar's Office Staff
Individuals:
Krista Herring | Michael Ferguson | Amandine Habben | Curtis Evans | Debi O'Connor | Jared Verner | Anna Squires | Deborah Glynn | Claire Ami | Alex Baker | Danny Pape | Hortencia Ysarraz | Rick Landis | Doris Taglialatela | Amy Wanek | Basheer Mohammed | Karen Talone | Jevita Rogers | Mikayla Greenfield | Jessica George | Jenn Christopherson and Jillian Mathena | Samantha Carty-Gall | Vanessa Ea
Teams
To: COVID-19 Call Center staff
From: Eric Nissen
Thank you to Jeff Foster, Kayla Gronseth Boyer, Gabby Hensley, Lisa Bartholme, Kat Pittman, Michelle Sipalay, Sami Meyer, Jared Verner, Tiyana Hardney Vela, Crayton Daniel, Chelsea Pock, Liz Bunkers and Morgan Metcalf.

This team comprised of Marketing, Communications, Development and Alumni Relations staff quickly and enthusiastically responded to the campus' needs during the COVID-19 crisis by volunteering to staff a COVID-19 Call Center, the creation and implementation of which I was asked to lead. With professionalism and compassion, they collectively fielded over 400 emails and calls, providing help, support and counsel to the many students and families impacted by the crisis. With little formal structure, they demonstrated initiative, creativity and agility to find solutions and get results for our stakeholders, all while displaying the "can-do" spirit that typifies UCCS. I'm very grateful for and proud of this team.
To: Career Center Student Employees
From: Janet Farley
For their dedication to serving our students, managing their own studies, getting married, finding jobs, navigating the new normal and just basically being the best student employees ever. :-) #TeamCareerCenter
To: UCCS HealthCircle Primary Care, Peak Nutrition and Center for Active Living Staff
From: Anon.
To all of the UCCS HealthCircle Primary Care Clinic / Peak Nutrition / Center for Active Living providers and staff who have been working to meet the needs of patients and clients during the COVID-19 crisis. This dedicated group of people have been flexible, reliable and made the transition with grace and skill.
To: Campus Recreation and Wellness Promotion staff
From: Anon.
Thank you Campus Recreation and Wellness Promotion for providing such great remote wellness activities to help our students maintain self-care through this difficult time.
To: Wellness Center's Health and Mental Health Services Staff
From: Anon.
Thank you Health and Mental Health Services for continuing to offer high quality services through telehealth so that our students may continue to have their health and mental health needs met at a critical time.
To: Residence Life and Housing
From: Anon.
Thank you for your perseverance through the rapidly evolving move out, moving of students to new apartments, and packing of rooms for those students who were unable to return. You are all rock stars!
To: Facilities Services
From: Anon.
Thank you Facilities Services for your dedication as essential personnel for going in each day to clean and maintain our facilities, assist with moving items from Housing, and for maintaining our grounds so that campus remains a wonderful place for us to return to. You are all appreciated more than you know!
To: Dean of Students Office
From: Anon.
Thank you to all of the Dean of Students staff for your assistance with housing operation "Pack Up" and for your unwavering support of our students. Now more than ever students need someone to advocate for them and help them navigate these choppy waters and you are the individuals providing that support. You are our superheroes.
To: Dining and Hospitality Services
From: Anon.
They have gone above and beyond to provide us with fantastic meals! Not only that but have made this crucial time very bearable. Clyde's Cupboard is wonderful and I truly appreciate being able to receive items that are hard to find these days. Thank you guys for such an amazing job! YOU ROCK!!
To: Tracy Barber, Todd Casey & the Amazing Registrar's Office Staff
From: Anon.
They continue to do incredible work in support of so many aspects associated with delivering the academic mission of the university in a rapidly changing environment. These aspects are often behind the scenes and can go unnoticed but are ever-present and essential. The history, knowledge-base, and work ethic of our Registrar, Associate Registrar and their team have enabled the kind of transition not experienced by all universities during this time.
Individuals
To: Krista Herring
From: Katie Gordon
Within a week's time, Krista had helped the entire Campus Recreation program move to an online format so that students could continue to practice their wellness at home during this difficult time. There was no precedent for this kind for work and she handled the situation with flexibility and grace. Her hard work will benefit our entire campus by giving them access to online group fitness classes, nutrition demos, meditations and more.
To: Michael Ferguson
From: Anon.
A student from Engineering brought up concerns about a teaching assistant who was very upset at seeing some responses from other students on an assignment. She went to Michael in the Dean's office because she wasn't sure if this was a real issue or who to escalate the concern to. He responded very quickly and affirmed the TA's concerns. Michael connected the TA to the appropriate department for support. The TA said she was going to not say anything to cause trouble or be seen as a complainer, but now she feels safe and supported. For a program working to attract more women, this was great to witness. Not just talking the talk, but walking the walk.
To: Amandine Habben
From: Sarah Frazier
She works very hard and diligently for the Student Life department and all students across campus! With changes in the department that started at the start of spring semester, she took on many duties outside of her typical role. In response to the COVID-19 response, she has taken on even more and supported students in a personal way. Students feel they can trust her and depend on her leadership in the department. She always makes herself available for student comments, concerns, or positive moments. She inspires many through her incredibly efficient work ethic and dedication!
To: Curtis Evans
From: Jacqueline
Curtis always answers my questions very quickly. I can message him in teams, e-mail, or call and he gives me the thorough information I need to assist prospective students. Most recently he was helping me with a prospective Engineering student who wanted to see if he could do the Disney Internship program in the future and receive college credit for completing the program. His work to answer questions is very helpful when it comes to recruiting prospective students! Thank you, Curtis!!
To: Debi O'Connor
From: Anon.
I wanted to give a huge shoutout to Debi O'Connor for all of her help with keeping the clinics up to date on changing regulations, quickly training staff on privacy expectations when working / treating clients from home and being an integral part of successfully being able to provide telemedicine. She has really gone above and beyond. We could not have done this without her knowledge and support.
To: Jared Verner
From: Anna Squires
Jared's work ethic is always extraordinary, but it has come out in full force as UCCS made big changes to adapt to the spread of COVID-19. He has lent his deft touch to every piece of news that crosses his desk and has worked far, far more than overtime to get clear, actionable and timely information to every member of the UCCS community.

As if communicating about the rapid-fire changes caused by COVID-19 wasn't enough, he has also worked with unflagging determination to share goods news, too – from athletic victories and academic program rankings to incredible new grants and degree programs. He is our fearless, tireless leader, and we would all be less informed, less equipped with the facts and less connected to each other without him.
To: Anna Squires
From: Anon.
Anna Squires (Squiggles) is such a wonderful person and team member. She brings her calm spirit to my life when I am panicked and stressed. She is a wonderful writer and cares deeply about the content she creates and telling meaningful stories. I appreciate her hard work. Keep being great, Anna!
To: Deborah Glynn
From: Anon.
Deborah went above and beyond in support of the search committee for the next dean of the College of Letters Arts and Sciences. She took on this task in addition to her multitude of duties. She did it with her usual smile and sense of humor. She made the candidates feel welcome and put the best foot forward for UCCS. She greatly contributed to a successful search as we welcome the next dean of LAS.
To: Claire Ami
From: Janet Farley
Claire shows up everyday for our 8:30 coffee and catch up on MS Teams with a smile on her face. Our morning meet ups, whether they last 15 minutes or 30, have gone a long way to making me feel more connected to campus in these remote working times. :-) #TeamCareerCenter
To: Alex Baker
From: Anon.
As the Case Manager for the CARE Team, Alex is constantly tasked with reaching out to students and getting them connected to resources on campus. Under normal circumstances, Alex is able to connect with students by an email or a phone call. However, now that campus operations have moved remote and students are not responding as they use to, Alex came up with the brilliant idea of texting them using the Dean of Students Office cell phone. By using this communication tool Alex was able to get a lot of responses from students and communicate with them in a way that made them feel comfortable.

In this great time of need, Alex stepped up and tried a new way of communication that paid off greatly! He is still getting students connected and he has never given up on his main focus: the students. Kudos to you Alex.
To: Danny Pape
From: Janet Farley
Danny goes the extra step to reach out and ensure his Career Center team remains connected, informed and appreciated as we all work remotely together in these unprecedented pandemic times. #TeamCareerCenter #kleinaberfein :-)
To: Hortencia Ysarraz
From: Chavon Harrell
As the Facilities Services HR liaison, Hortencia continues to go above and beyond to assist the department's Business Professional to ensure all HR processes are followed and effective. Whenever I have a question, she always helps, regardless of how many questions I have asked and alleviates much of the stress of hiring during a pandemic. For over a year, Hortencia has been an amazing HR mentor and I always look forward to working with her.
To: Rick Landis
From: Chavon Harrell
For over a year, Rick Landis has held the role of Facilities Services Maintenance Manager as well as taken on the responsibilities for the Auxiliaries Structural Trades Manager, after the manger left in spring of 2019. He took on managing an additional nine team members while continuing to manage three students and his current team. These teams have been a vital part of cleaning and maintaining our campus not only during the COVID-19 pandemic, but year round. Rick Landis exemplifies the UCCS values and deserves to be recognized for the great work he continues to do year round.
To: Doris Taglialatela
From: The HR Office Team
Doris has provided remote ASL interpretation for the campus and found innovative ways to do so. She also provided a marathon (LONG) interpretation during the Chancellor's town hall! She is amazing and our team and campus is lucky to have her.
To: Amy Wanek
From: Anon.
Amy started in the summer of 2018 as the Operations Engineer for Facilities Services, a new role for campus. She brought forth a new perspective of how the campus utilizes their energy consumption and has aided in the implementation of many sustainable programs.

During the COVID-19 pandemic, Amy has worked diligently with Colorado Springs Utilities and the Facilities Services leadership to prepare a plan to set back our utilities to decrease energy and water cost and consumption on campus. Working directly with the UCCS CSU account manager, once implemented, this plan will not only save our campus hundreds of thousands of dollars, but will enable our campus to remain environmental sustainable with the decrease of foot traffic on campus, aiding in her commitment to our mission and values, even during a crisis. As our operations engineer, she continues to work towards ensuring UCCS is environmentally and fiscally cautious.
To: Basheer Mohammed
From: Anon.
For his work in the UCCS HealthCircle Primary Care Clinic. He has been in the clinic helping patients and clinic providers throughout the COVID-19 crisis.
To: Karen Talone
From: Anon.
For her ingenuity, flexibility and dedication while serving as the Office Manager for the Johnson Beth-El Clinics at the Lane Center during the COVID-19 crisis.
To: Jevita Rogers
From: Anon.
Thank you Jevita for your kind heart and caring ways that make so many of us feel appreciated and supported. Your regular check ins to make sure we are doing okay go a long way during tough times. Thanks for being a wonderful colleague and friend!
To: Mikayla Greenfield
From: Anon.
Since the start of the COVID-19 pandemic, Mikayla has been a vital leader in ensuring the Department of Facilities Services follows all guidelines put out from the university as well as the state. She is responsible in leading the designation of our student employees as essential, allowing them to continue to work and be compensated during remote learning. She worked with both the Sr. and Executive Director of Facilities Services to identify all of our high-risk essential employees to ensure we were keeping our community safe, and having them coded properly utilizing UCCS HR procedures.

While working remotely, Mikayla has aided many supervisors with the completion of Performance Management Plans, requiring her to send out for multiple digital signatures and aided in scheduling remote one on ones for the supervisors. She continues to track all COVID-19 expenses and monitors all Facilities purchased for this event. She also continues to mentor two student employees while ensuring all daily and department operations remain efficient and effective.
To: Jessica George
From: Andi Diamond
In the major shift to remote learning, Jessica has gone above and beyond to work with Pre-Collegiate high school students to make sure they have the access and supports they need to be successful in their dual enrollment classes. Pre-Collegiate students will be poised for success during this uniquely challenging semester because of her diligent attention, thoughtful conversations, and her unhesitating willingness to make as many Google Voice calls necessary to connect with them. We are grateful for all you do, Jessica!
To: Jenn Christopherson and Jillian Mathena
From: Jacqueline
My daughter is in Ms. Jenn and Ms. Jillian's class at the Family Development Center. They have made every effort to support my family and daughter as we have adjusted to life at home. They reached out to us to schedule a once a week one-on-one meeting with our family. They have shown an interest in my daughter's endless desire to do show and tell and they read her stories during the meeting. They have helped us connect with classmates to help my daughter as she misses her friends. Whenever I have a question about how to help my daughter in this challenging time they have given helpful suggestions and ideas. Their care and compassion are endless. We miss them and all the great teachers at the FDC!
To: Samantha Carty-Gall
From: Molly Larson
This was my first year involved with scholarships for our college and Samantha was incredibly helpful and patient with me as I learned the process. She is such an asset to UCCS and I'm so thankful for her!
To: Vanessa Ea
From: Anon.
Vanessa has been an asset to the Office of Admissions. She quickly thought of ideas for different virtual events and then executed those ideas for prospective students, admitted students and international students. She helped train the office on how to host these events and has kept our schedule organized.
Want to celebrate your colleagues? Submit kudos anytime through the Staff Association website. Communique publishes Clyde's Kudos on the first business day of each month.