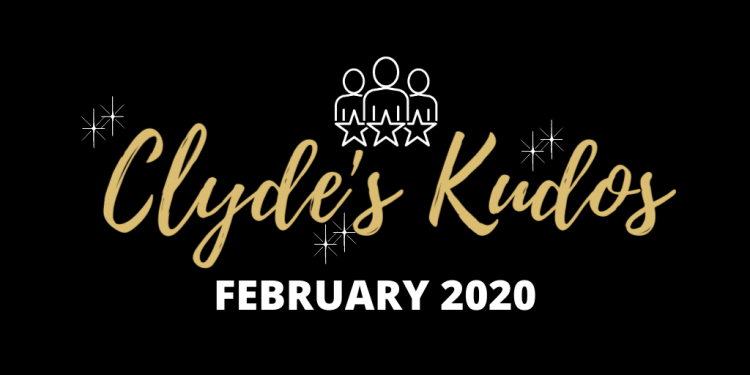 In the hustle and bustle of the school year, it's important to take a breath and celebrate our colleagues for their achievements – both big and small.
Kudos are celebrated each month on Communique. Nominations are also recognized through a variety of forums including the Staff Association website, the Staff Association newsletter, Spring Luncheon shout-outs, handwritten cards and other methods of distribution.
Clyde's Kudos: February 2020
Featured this month:
Jesse Perez | Lindsey Duthrie | Craig Ginter | Heidi Wardell | Anna Squires | Casi Frazier | Dawn Carter | Erik Newhouse | Laura Chandler | Liz Bunkers | Lindsay Knell and Pam Sawyer | Nicole Gutheridge | Barbara Keeney | Jesie Steffes | Debi O'Connor | Todd Casey | Allie Schwartz | Eduardo Diaz de Ramon | Karen Bisset | Mary McGill | Danielle Stephens | Michael Hadley
To: Jesse Perez
From: Anon.
Jesse Perez is able to see the students that really need him. His ability to attend to students that need a unique type of support is life changing. I don't know what our campus would do without him at the helm of the SPECTRUM work, and specifically his outreach in training for Safe Zone. He is truly helping our campus to be an inclusive, supportive community for all.
To: Lindsey Duthrie
From: Yvonne Weeres
Lindsey is always professional and goes above and beyond to help her students and co-workers.
To: Craig Ginter
From: Anon.
Officer Ginter is always a bright spot on campus. He is caring and compassionate to all faculty, students, and staff. Officer Ginter goes out of his way to make the campus safe and feel at ease with our law enforcement.
To: Heidi Wardell
From: Margie Oldham
Heidi's bubbly personality is infectious and so needed here at UCCS. I have the honor of working with Heidi on the National Student Exchange program. She welcomes incoming exchange students throughout the year as they acclimate to our school and a new location. Her "job" may be to make sure the students have everything they need (classes, housing, etc.), but instinctively she gives them so much more. "Hello, my friend!" she greets them as they enter her office. "How can I help?" she asks. Before you know it she's congratulating them on their courage for stepping out of their comfort zones, and assuring them that they can get make it through any hard adjustment phase. "Just have faith in your abilities," she tells them. Students LOVE Heidi and her thoughtfulness. When they return to their home campuses, they have nothing but praise for UCCS and Heidi. Way to go, Heidi!!!! You make us all proud to be part of UCCS.
To: Anna Squires
From: Anon.
Anna has become one of my most favorite people on campus. Anna's willingness to assist, even with projects that aren't her own, is greatly appreciated. Anna's laugh and smile are infectious, and her presence lights up a room. I am deeply grateful for the assistance Anna has given with so many tasks/projects, and I hope she knows how much of a rockstar she is.
To: Casi Frazier
From: Stephanie Hanenberg
Casi went above and beyond serving as the search committee chair for a nurse practitioner position, in addition to the countless other duties she performs on a daily basis. We are lucky to have such an amazing colleague to support so many of us! Thank you Casi for all that you do.
To: Dawn Carter
From: Stephanie Hanenberg
Dawn brings joy to all who work in the Wellness Center on a daily basis. Her dedication to serving all students is the reason so many students return for additional health care needs. Her willingness to train externs, onboard new medical assistants, and assist all providers, makes her a true asset of the clinic and university.
To: Erik Newhouse
From: Stephanie Hanenberg
Erik does an amazing job managing housing petitions and overseeing student employees. Erik took the initiative to update the Residence Life and Housing website, as well as helping to create a new video highlighting Residence Life and Housing for potential students, which were both greatly appreciated. Thanks Eric for all that you do!
To: Laura Chandler
From: Deann Barrett
Laura has been so patient and kind with me, and she has helped train me in my new position. She helps whenever she can. She answers all of my endless questions. She has an amazingly positive attitude. She has made my transition to UCCS a great experience, and I consider it a privilege to get to work with her and call her friend. Thank you Laura!!
To: Liz Bunkers
From: Anna Squires
Liz has the kind of bright spirit that makes anything seem possible. After a 180-degree career switch, Liz started working for the Alumni and Friends Association office in October and immediately began to tackle the difficult challenge of engaging and building relationships with our 47,000 alumni.

It's enough to take up her entire day – yet Liz has also found time to reach out to other brand-new UCCS staff members and start an informal lunch group that has helped me (and others, I'm sure) feel welcome and valued on campus. It takes someone with a huge heart for people and an amazing attitude to do what Liz does. I appreciate her every day. Kudos to Liz!
To: Lindsay Knell and Pam Sawyer
From: Sarah Elsey
Lindsay and Pam co-led a search committee for SPA and it was the best search experience I have had at UCCS! Everything was extremely organized, they worked to coordinate our busy calendars and made the experience for the candidates the best it could be. Thank you for all your hard work and dedication.
To: Nicole Gutheridge
From: Wangyun Chao
Nicole took on additional job duties when our temporarily employee left. She caught on real fast and helped kept up with the admission work flow. Her excellent work in processing the international transcripts and the research and accuracy put behind the work is very much appreciated here and by the academic departments. I am sure that the students who submitted these international documents are also happy with our ability to turn their files around!

I can't thank Nicole enough for her willingness to take on the role of international transcript processing and to have Nicole on the international team! I can't thank you enough for willing to take on this beast of project and I am so thankful that you are willing to work with me as a team!
To: Barbara Keeney
From: Anon.
Barbara acts like a glue and knight for her teams. In addition to her outstanding ability as an admissions examiner, her dependability that everyone (student, staff, supervisors) goes to her for admission inquiries. Barbara served on the office "synergy team" and always went above and beyond in serving and keeping the synergy team together. Barbara spoke up when a fellow colleague is being bullied and being treated unfairly. Barbara always help out when needed! I couldn't ask for a better colleague as a team mate!
To: Jesie Steffes
From: Anon.
Not only is Jesie a colleague at UCCS, she is also one of my best friends. It is evident in the work that Jesie does that she cares about our students. Jesie works in mental health services and is always reminding those around her why mental health is so important through conversation, presentations, trainings, and teaching. Jesie's efforts at strengthening a better campus understanding of mental health are not unnoticed. I am continuously impressed with Jesie, and her work ethic speaks for itself. I'm confident when I say, we (and I) would be lost without Jesie.
To: Debi O'Connor
From: Anon.
Debi is always upbeat and willing to help her fellow staff. She participates in a lot of committees to get the task at hand done. It is a pleasure working with Debi. She is a huge asset to UCCS.
To: Todd Casey
From: Anon.
Todd is always willing to help. While I work in a different area of campus if I am struggling to figure something out in CU-SIS I can call Todd and he will assist. Todd will explain things to me and fix errors in the system without complaint. Todd is truly student focused as he makes changes quickly to assist the student being impacted. Todd is very knowledgeable and if he doesn't know an answer he always knows who to refer me to.
To: Allie Schwartz
From: Anon.
Allie assisted in covering our front desk and training two of our new student hires on a crazy Friday when we had limited staff coverage. Not only did she come in early, but she also worked through her lunch to help out and didn't get time to step away to complete her own work. She did this with an AMAZING positive attitude. Allie is consistently willing to jump in where needed and help out her team. I so appreciate her genuine attitude and helpfulness!
To: Eduardo Diaz de Ramon
From: Anon.
Eddie is always willing to jump in where needed. He gives 2-3 information sessions in a week when he's usually expected to only do 1. He doesn't complain about taking back-to-back walk-ins all day, even if he hasn't had a break. A couple weeks ago he stayed much later than 5 to help a family out. He's attentive and a great team player; he noticed I wasn't myself one day and reached out personally to offer support and the world's best GIF to make my day better. Eddie goes above and beyond and is wonderful to have around the office!
To: Karen Bisset
From: Sandy Ho
Karen is an exceptional all-around positive and productive staff member. Anywhere she works, she brings in high efficiency and genuine care to the students and her colleagues. But, this time I want to recognize Karen because (as busy as she is doing phenomenal work), she always makes time to recognize and nominate others for awards and recognition.

Karen is also intentional in nominating staff/peers/colleagues who may feel underrepresented across campus. She reaches out to not only recognize others but collaborate with us to pull in peers who may not have been given opportunities to shine on campus. When she is working on a new project that will bring new funding streams to campus or teaching a class, Karen pulls in underrepresented staff to share their experience and expertise. Karen is a leader who models collaboration, valuing diversity, and excellence in student care. It is with great joy that I get to nominate Karen Bisset for a Clyde's Kudo.
To: Mary McGill
From: George Reed
Mary is the Human Resources professional for the School of Public Affairs and she held the same position at the College of Letters Arts and Sciences (LAS). Despite the fact that she had a full workload in her new position, she continued to provide HR coverage for LAS until a new staff member was hired. She was essentially doing two jobs out of care and concern. Her actions speak highly of her commitment to our campus and willingness to do whatever is necessary to get the job done.
To: Danielle Stephens
From: Colleen Stiles
Thank you for all your assistance with the Bachelor of Innovation Search Committee as we look to fill an instructor position. Fast, efficient, smart, communicated policies and procedures and made our job easier to manage.
To: Michael Hadley
From: Colleen Stiles
Michael is a member of the Bachelor of Innovation teaching team. Thanks Mike for the hours you spend with students, positive attitude, always willing to do what you can to help your team and the students. We are so glad you are on the team!
Want to celebrate your colleagues? Submit kudos anytime through the Staff Association website. Communique publishes Clyde's Kudos on the first business day of each month.