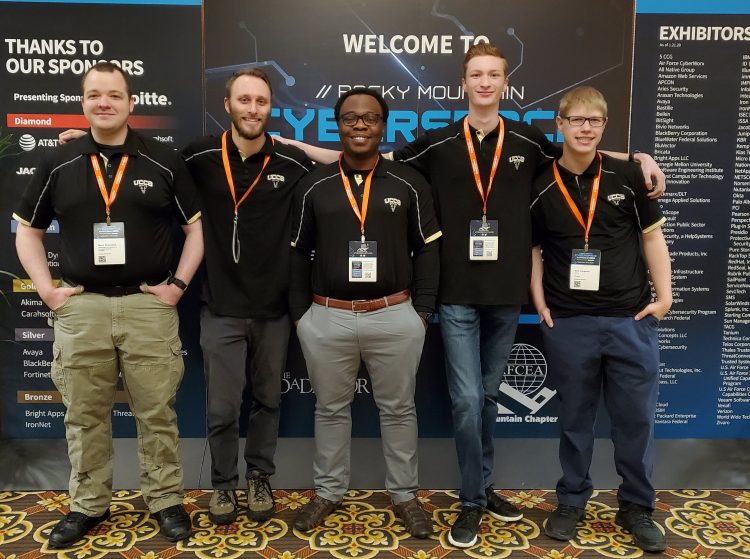 The UC Lions Cybersecurity Club, a team of four students each selected for their different skills in computer security, used all the tools at their disposal for eight hours to finish as the runner-up team in the Rocky Mountain Symposium Capture the Flag cybersecurity competition Feb. 5 at The Broadmoor. The competition was sponsored by Deloitte and hosted by the Rocky Mountain Chapter of the Armed Forces Communication & Electronics Association.
The team, selected by coach and doctoral student Oluwatobi Akanbi, scored 1,100 points and finished 100 points behind the winning team from the U.S. Air Force Academy. Team lead Robert Province and members Mark Pizzolatto, Ryan Long and Nick Stegman trained with Akanbi throughout the year to develop their skills for competition.
Province specializes in finding out how porous a system is by running penetration tests, but it skilled enough in all areas of cybersecurity to be a versatile team lead. Pizzolatto is best at web exploitation and reverse engineering, Long is best at SQL database injection and Stegman works on network intrusion. Together in competition, they completed a variety of tasks in different categories to capture flag with the goal of achieving the highest score possible before time expires.
Capture the flag competitions are common in the cybersecurity industry to train students and employees, as well as to test systems in a controlled environment. Organizers will hide the flag, or a long and random string of text, somewhere within a system, that when found, is submitted by the team in exchange for points. In this week's competition, easier tasks started at 50 points and increased by 50-point increments in difficult to a top score of 400 points.
The UC Lions club will be back in action Feb. 14 at the National Cybersecurity Center to compete at the NCC/Boecore Capture the Flag event. The team meets every Thursday evening to prepare for upcoming local and national events. Students interested in learning more and how to participate in the upcoming events can visit the team's website at uclions.vast.uccs.edu.