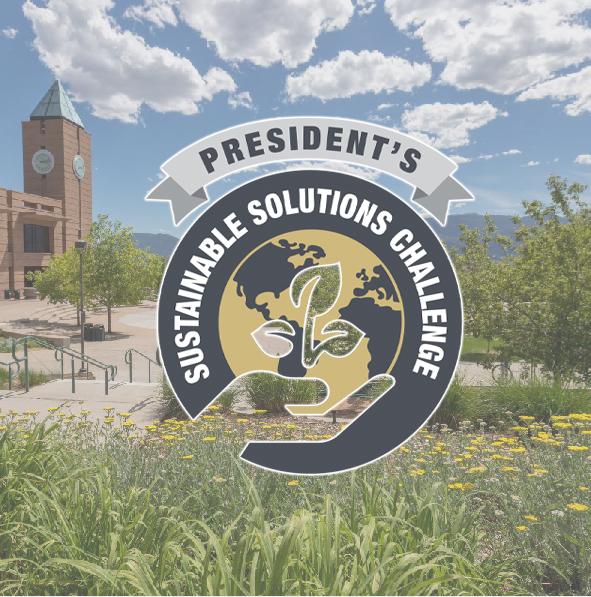 UCCS students are invited to enter the President's Sustainable Solutions Challenge, which will reward students with up to $3,000 in prize money for their innovations in the field of sustainability.
In the first round of the challenge, one team from each campus will be awarded a $1,000 prize. The top two teams from each campus will advance to compete for the $2,000 grand prize awarded at the celebration of the 50th Anniversary of Earth Day on April 22.
"One of the most exciting aspects for UCCS students participating in the CU President's Sustainable Solutions Challenge will be the potential funding opportunity for their projects and programs through the Green Action Fund," said Kimberly Reeves, senior sustainability programs manager in the Office of Sustainability.
"Since the PSSC Pitch Night Evaluation Criteria are very similar to our own Green Action Fund five pillars, students can also consider applying for grant funding and leave a legacy at UCCS by making campus more sustainable."
To participate in the competition, students should develop a short-pitch presentation that describes a proposed sustainability initiative. Initiatives should address environmental quality, economic and resource efficiency and/or social equity on the UCCS campus or through the CU system.
Qualifying teams at both stages of the competition will present their ideas to a panel of judges and will be evaluated on the anticipated impact of their project, its innovation and its feasibility.
UCCS students interested in the competition should keep the following dates in mind:
Informational Session – Thursday, Feb. 20 2-5 p.m. | KFL 2nd Floor Apse
Registration Closes – Monday, Mar. 9
Proposal Workshop – Thursday, Mar. 12 2-5 p.m. | UC 116
Proposals Due – Wednesday, Apr. 1
UCCS Pitch Night – Tuesday, Apr. 7 4-7 p.m. | UC 303
Grand Prize Pitch Night – Wednesday, Apr. 22 | CU Boulder
Students should register before the Mar. 9 deadline. The top 20 proposals submitted by the Apr. 1 deadline will advance to the UCCS campus-level first stage pitch competitions.
Have an idea for improving environmental quality, economic and resource efficiency or social equity at UCCS? Register for the challenge by Mar. 9.