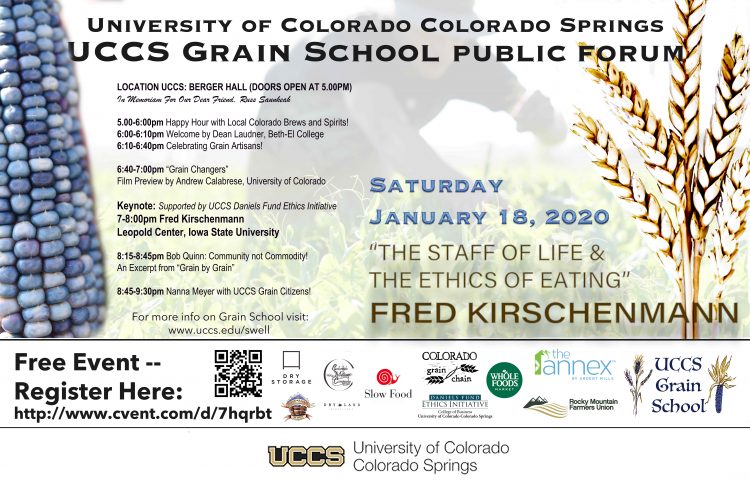 Fred Kirschenmann, distinguished fellow at Iowa State University's Leopold Center for Sustainable Agriculture, will present his keynote address "The Staff of Life and the Ethics of Eating" during the free public forum of the 2020 UCCS Grain School Jan. 18.
The forum begins at 5 p.m. in Berger Hall, with entertainment from The River Arkansas. The forum is free but online registration is required.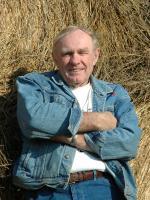 Kirschmann in an international leader in sustainable agriculture and continues to manage his family farm in North Dakota. He is the recipient of the One World Award from the International Federation of Organic Agriculture Movements and was among the first class of recipients for the James F. Beard Foundation Leadership Award. Kirschmann will deliver his keynote from 7-8 p.m.
The forum will open with a happy hour with local Colorado brews before the start of the formal program at 6 p.m. by Kevin Laudner, dean of the Helen and Arthur E. Johnson Beth-El College of Nursing and Health Sciences. The forum will celebrate grain artisans and preview the film "Grain Changers" by Andrew Calabrese, professor ans associate dean of graduate programs and research at the College of Media, Communication and Information at CU Boulder.
Following Kirschmann's keynote, author Bob Quinn will read an excerpt from his book "Grain by Grain." Nanna Meyer, associate professor of health sciences, will close out the forum with the UCCS Grain Citizens.
The 2020 forum is dedicated in memory of Russ Saunkeah, executive chef and associate director of dining services at UCCS who passed way May 27, 2019.
The forum is part of the larger UCCS Grain School that runs Jan. 17-19 on campus. From farming to baking and cooking, fermenting, malting, and milling , the school brings experts in the science and practical applications of heritage and ancient grains to campus.