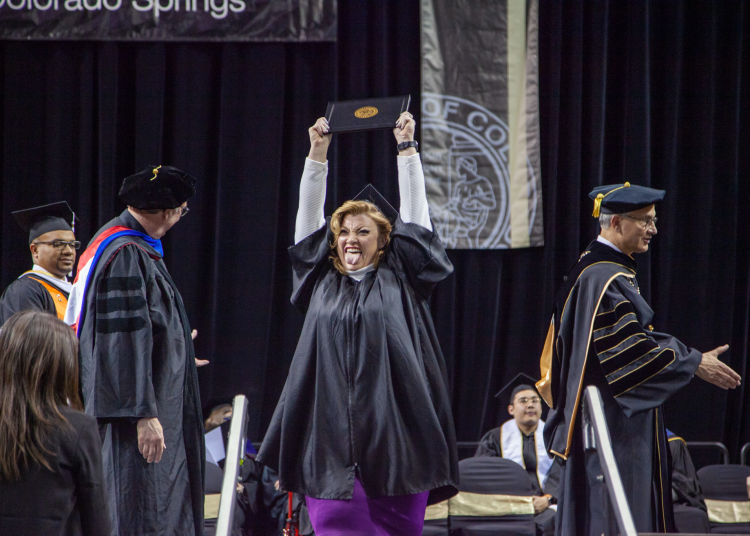 UCCS conferred a record 1,068 degrees to students, and more than 500 graduates joined 6,000 family, friends, faculty and staff in the fall commencement ceremony Dec. 20 at the Broadmoor World Arena.
UCCS awarded 15 doctoral degrees, 234 master's degrees and 819 bachelor's degrees, a new record for the fall and summer commencement ceremony.
Chancellor Venkat Reddy, CU President Mark Kennedy and this year's distinguished alumnus Matt Carpenter '06 shared words of wisdom with the new graduates.
Following a quotation by the poet William Butler Yeats, Kennedy told graduates, "Know that we believe the best of each of you. Let your light shine by believing the best in others, getting them to swing their lanterns higher. Become a bearer of CU's torch, a center of her influence, a promoter of her spirit. Make us CU proud."
Reddy encouraged students to embody the values of UCCS in their personal and professional lives.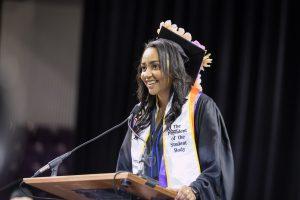 "The challenges of our world are ever present," he said. "As individuals, we must embody the values of the university in our personal and professional lives. We ask our graduates to do the same. We will use our differences and agreements to advance our community, our nation – and the world."
Carpenter (MPA '06) spoke to the class of 2019 as the 11th annual distinguished alumni. Carpenter is the executive vice president, chief operating officer and corporate secretary for El Pomar Foundation in Colorado Springs.
In his remarks, he memorably walked students through the plot of the cult-classic film Galaxy Quest to illustrate his advice for UCCS' graduates.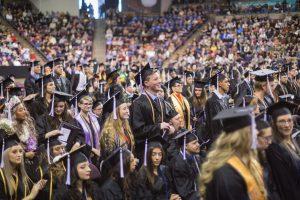 "Make your community where you live a better place," he advised graduates. Quoting the film, he concluded, "'Never give up, never surrender.' Your community needs you."
Judy Bell, the recipient of the CU Distinguished Service Award, was also recognized at the ceremony for her service to UCCS as one of the most respected leaders in golf worldwide. So were the 10 silver graduates in attendance – members from the Class of 1994 who returned on the 25th anniversary of their graduation to celebrate commencement with the UCCS community.
If you weren't able to make it to the Broadmoor World Arena for the Fall 2019 commencement ceremony, you can watch the ceremony online.