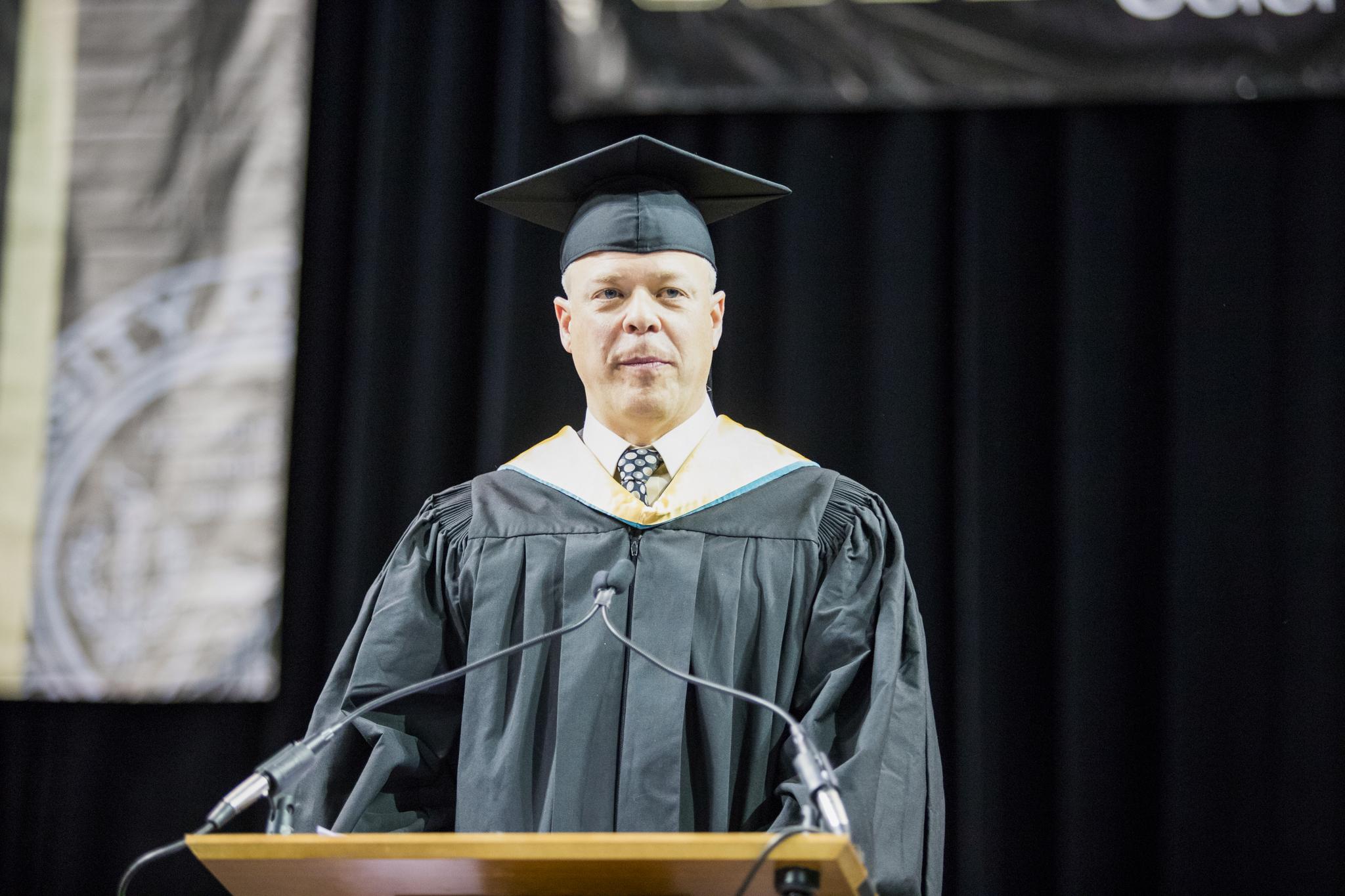 In his keynote address at UCCS' fall 2019 Commencement, Matt Carpenter '06 encouraged graduates to carry three concepts with them – gratitude, pursuing their passions and mentorship – in order to make their communities better places to live.
Carpenter addressed more than 500 graduates and their families at the Broadmoor World Arena during the Dec. 20 commencement ceremony.
"We are fortunate to live in Colorado," he said, "and I hope as you complete this education and graduation journey and consider where to live now or in the future, that you will make Colorado your home. Once you find a place to live, I hope you will remember these three concepts I have shared with you today: gratitude, pursing your passion, and mentorship. These will help you have a meaningful life, and also transform your community to a better place for everyone."
Carpenter memorably illustrated his advice for the graduates by walking them through the 1999 cult classic film Galaxy Quest, in which Tim Allen delivers the famous line, "Never give up, never surrender!"
"I believe that life is more fun when you love what you do. But knowing your passion is just the first part of it," Carpenter said.
"While you may not be a commander of a spaceship protecting the Earth from hostile aliens, I encourage you to pursue your passion and pursue it with all your heart. Make your community where you live a better place. 'Never give up, never surrender.' Your community needs you."
Carpenter, a 2006 Masters of Public Administration graduate, thanked his wife and parents – as well as the educators, administrators and colleagues – who motivated him to complete his graduate degree at UCCS. Today, he is the executive vice president, chief operating officer and corporate secretary for El Pomar Foundation in Colorado Springs.
As he thanked those who supported him, Carpenter invited all 500 graduates to stand up and look for the individuals who supported them during their time at UCCS.
"Our community would be a better place if we expressed our gratitude to one another," he said. "Make eye contact your friends and family, faculty members or fellow students, and let them know they were a crucial part of helping you to reach this goal of graduation. When you see your supporters face to face, give those individuals a hug and say, 'Thank you for supporting me.'"
In closing, Carpenter remarked, "I look forward to hearing the great things you – and your communities – will accomplish in the future."
Carpenter spoke to the graduates as the 11th Distinguished Alumni Award recipient. UCCS conferred degrees on more than 1,000 students who completed their academic programs in the summer and fall semesters, and more than 500 participated in the commencement ceremony.