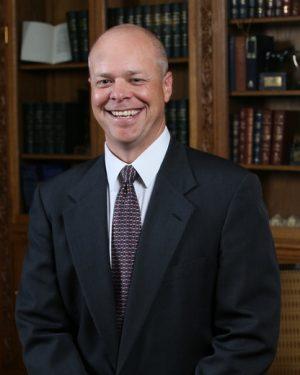 Matt Carpenter, the executive vice president, chief operating officer and corporate secretary for El Pomar Foundation in Colorado Springs, will deliver the UCCS commencement address to summer and fall graduates Dec. 20. Carpenter, a 2006 Masters of Public Administration graduate, will speak to more than 500 students and their families at the Broadmoor World Arena as the 2019 Distinguished Alumnus Speaker.
Carpenter manages an operation responsible for enhancing, encouraging and promoting the current and future well-being of the people of Colorado, and oversees grants and program operations. The El Pomar Foundation annually awards more than 800 grants that help solve complex challenges and opportunities with innovative solutions. Through his leadership and that of fellow trustees, the entire state of Colorado is positively impacted through grant awards promoting the advancement of health care; the creativity of arts and culture; expanded learning through education; and through civic engagement and community building initiatives. At UCCS, projects like the Ent Center for the Arts, the pre-collegiate program and cybersecurity have been able to thrive for the benefit of the region.
He earned his bachelor's degree in political science as a cadet at the United States Air Force Academy. He worked as an Air Force Intelligence Officer before he joined El Pomar Foundation through its fellowship program in 1999. Carpenter became a staff member in the grants department and was eventually promoted to executive vice president and chief operating officer. In that time, Carpenter earned his master's degree in public administration with an emphasis on nonprofit management from UCCS in 2006.
Carpenter currently serves on the board of directors for the Cheyenne Mountain Zoo, as president of the board for Philanthropy Southwest, is a member of the Pikes Peak Regional Leadership Forum, and a board member of the Air Force Academy Foundation. He is a previous board member for YMCA of the Pikes Peak Region, the Colorado Springs Chamber and Economic Development Corporation, Peak Vista Community Health Centers, and as an allocation board member for the 2012 Colorado Fire Relief Fund.
He has provided support to the Bruce and Anne Shepard Reach Your Peak Scholarship that provides annual scholarships for undergraduate students who demonstrate financial need, strong academic potential and a stalwart work ethic. He also supported the Shockley-Zalabak Theater Fund that named the main stage in the Ent Center for the Arts.
Carpenter will speak during the winter commencement exercises at 2 p.m. at the Broadmoor World Arena. More than 1,000 degrees will be awarded for summer and fall graduates and more than 500 graduates are expected to participate in ceremonies.