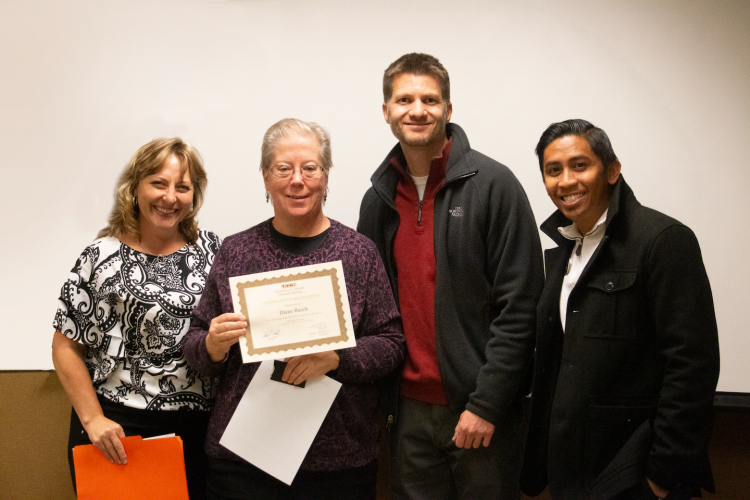 When Debbie Schultze nominated her colleague Diane Busch for the Employee of the Quarter Award, she wrote in her nomination letter, "You can't be around Diane and not want to bring your best as well."
Busch, the winner of the winter quarter's Employee of the Quarter award, is a program assistant for the graduate nursing program in the Helen and Arthur E. Johnson Beth-El College of Nursing and Health Sciences.
She's spent nearly 18 years managing student enrollment for the department, which, over the last few years, has "increased from roughly 28 students per semester to more than 75," wrote Schultze.
But the heart of her job isn't just in enrollment – it's in recruiting prospective students, mentoring those students already enrolled in the program, and coordinating the 630 practicum hours that each graduate student must complete in a clinical setting in the community. She helps develop new courses and programs of study. She ensures that the program's accreditation process runs smoothly. She processes all leave of absences, and is in many ways is a counselor for those students who are struggling.
As Schultze wrote in her nomination letter, "I was hired to help Diane carry a load that, as I understand the position more clearly every day, I cannot believe she was managing alone – and with a smile on her face and a level of kindness that is rare to find."
Much of Busch's day is spent supporting UCCS' graduate nursing students, who are working towards becoming full-fledged nurse practitioners. By then end of their clinical rotations, those nurse practitioners see patients, make clinical diagnoses, plan treatments for patients and make recommendations for pharmacological treatment. "By the time they're done," Busch says, "they're actively seeing a full load of patients with minimum supervision."
In order for each student to complete the 630 practicum hours required by the graduate nursing program, Busch must compile placement agreements to settle students at their clinical rotations.
"I have about 1,300 active contracts right now," she said. "There are different processes for different facilities to get the rotation requested and approved."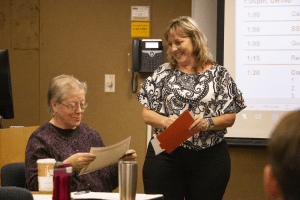 Her work ranges from navigating HIPAA regulations to making sure that students meet compliance requirements and have all of the necessary immunizations and licensures – like blood-borne pathogens training – that they maintain throughout their placement.
"Her work ethic is impeccable," Schultze said. "She is an inspiration to me, and one of the finest and hardest working people I have ever met."
And more often than not, Busch also finds herself counseling students who are struggling with their classwork or with the daunting prospect of training for a career in healthcare.
"Our program is all online, so we don't have a lot of the face-to-face interactions we used to have," she said. "It's done over email, or phone, or the occasional in-person visit. But I kind of 'Mom' them. Even though some of them are close to my age. I try to be their champion."
"We want their education to be smooth, seamless, enjoyable, and – of course – informational. But life happens when you're trying to go to school."
"You just try to support them as best you can," she said.
Schultze wrote that Busch's passion for helping students is "her modus operandi."
"It is evident in how she speaks with them on the phone," Schultze said, "and in the fact that despite hundreds of students having come through the program, you can say a name to her, and she will be able to give you details on the person…It informs every decision she makes, every conversation she has, and every piece of advice she offers."
Busch recounted that in the past, she has counseled students who were struggling in the program – who later went on to graduate.
She recalled, "I encouraged them to continue, and they told me at Commencement that they only finished the program because of me."
"But they did all the hard work!" she objected. "They were the ones who made it through the program."
She recounted feeling shocked at being awarded the Employee of the Quarter award – but then pleased.
"I spent 28 years in the semiconductor field," she said, "which is as different from academia and nursing education as you can get. I've learned a lot in the 17 years I've been here."
"I've made so many friends. I love working with the students. I love to support the faculty, who are just awesome, and who work so hard to support our students."
And it's clear that faculty recognize Busch's tremendous efforts to support students, too. In a second nomination letter, professor of nursing Kathryn Blair wrote, "[Diane] is more than worthy of this recognition. She is one of the unsung heroes that makes this department run as smoothly as it does."
Do you have a colleague whose extraordinary efforts at UCCS deserve to be recognized? Nominate them for the Employee of the Quarter award.