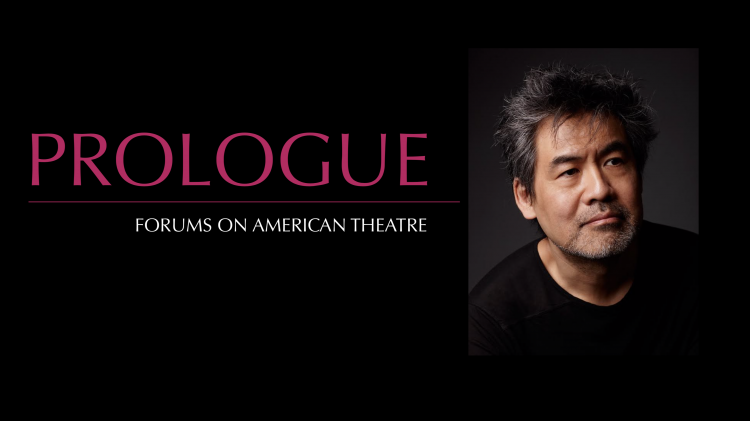 One of the nation's most accomplished playwrights and opera librettists, David Henry Hwang will share the story of his career in a free Nov. 11 Prologue event in the Dusty Loo Bon Vivant Theater at the Ent Center for the Arts. Registration is requested through the UCCS Presents Box Office.
Hwang is the author of "M. Butterfly," the 1988 Tony Award winner for best play. He was nominated again for best play in 1998 for "Golden Child" and for writing the book of the musical revival of "Flower Drum Song" in 2003. Hwang is also a writer and producer for the Golden Globe-winning television show "The Affair." "Soft Power," his new play/musical composed by former Prologue guest Jeanine Tesori, is playing in New York this fall.
Hwang will join Kevin Landis, associate professor and director of the academic theatre program at UCCS, in a guided discussion on his career. The two will later welcome in Lavina Jadhwani, director of the upcoming Theatreworks production of "Around the World in 80 Days," and Monica Ndounou, a Dartmouth scholar, for a conversation about the complexities of updating problematic plays from centuries past.
"David is among the giants in American theatre, not only due to his beautiful dramatic prose, but also his extraordinary contributions to national dialogues on race, inclusivity, casting and a host of other pressing considerations in our art form," Landis said. "I'm just so excited to welcome him here and learn about what he can teach everyone across disciplines. Having David, Lavina and Monica on the same stage is just thrilling."
Hwang is chair of the board of trustees for the American Theatre Wing, the sponsoring organization of the Tony Awards. He served from 1994-2000 on an appointment by President Bill Clinton to the President's Committee on the Arts and Humanities. He is a three-time Obie Award winner and two-time finalist for the Pulitzer Prize. Hwang was inducted into the American Theater Hall of Fame in 2018.
Prologue is sponsored by the Chancellor's Office, Theatreworks, the Department of Visual and Performing Arts, and the College of Letters, Arts and Sciences. The series consists of theatre talks, performances and hands-on workshops with national theater leaders throughout the academic year. New for the 2019-20 year, Prologue expanded to accommodate interest in social and ethical issues in the arts, alongside spotlighting national leaders in theatre.
Other news:
So, what is a "problem play," anyway? – UCCSPresents.org – Nov. 5, 2019