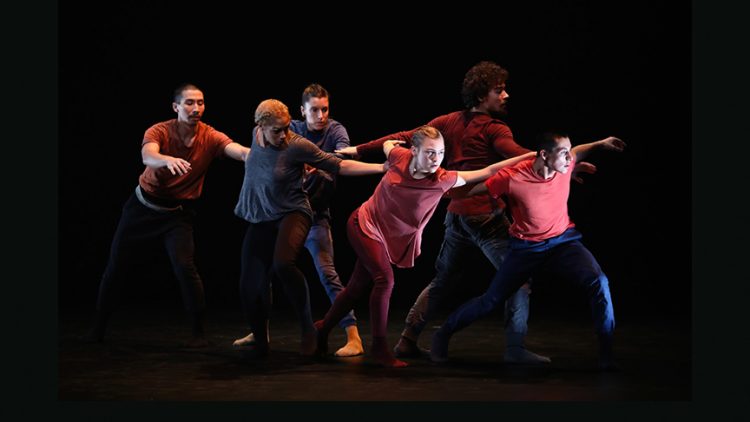 RUBBERBAND dance founder Victor Quijada revisits his company's 15-year history in a mixed repertory evening entitled "Vic's Mix" when the award-winning dance company presents in the Shockley-Zalabak Theater at the Ent Center for the Arts Sept. 26. With a unique blend of break dancing, ballet, and modern that draws from Quijada's broad and impressive dance career, "Vic's Mix" brings street dance to the concert hall with his singular choreographic vision.
Tickets for this UCCS Presents Arts Series event are still on sale through the box office at (719) 255-3232 and at uccspresents.org.
In his childhood, elastic b-boy dance moves earned Los Angeles native Victor Quijada the nickname "Rubberband." Now his choreography—equally informed by his younger years in hip-hop culture and his experience in ballet and contemporary companies—stretches the limits of genre to form a hybrid "that transcends its parts and become something entirely new (Times Union)." Constantly blazing a trail of creativity, Quijada and his Montreal-based troupe of hyper-agile dancers craft innovative dance works imbued with street attitude, theatrical staging and a delicate mix of tenderness, humor, and humanity. In celebration of RUBBERBAND's 15th anniversary, "Vic's Mix" features multiple works highlighting the essential innovations of Victor Quijada's choreography, set to music by Prokofiev, Bach and Jasper Gahunia, among others.
"Victor Quijada has put together an incredible international group of dancers with backgrounds in everything from circus to ballet to hip hop, and has created a seamless style that seems to incorporate all of these influences at once. It is a mesmerizing company," said Aisha Ahmad-Post, director of the Ent Center for the Arts.
The Ent Center for the Arts is a world-class facility for music, theater, dance, and visual arts that opened on the UCCS campus in February 2018. Home to the UCCS Presents Artist Series, Theatreworks, the Galleries of Contemporary Art and the music, Tteater and dance divisions of the Visual and Performing Arts Department, it is the premier destination for the arts in the Pikes Peak Region.