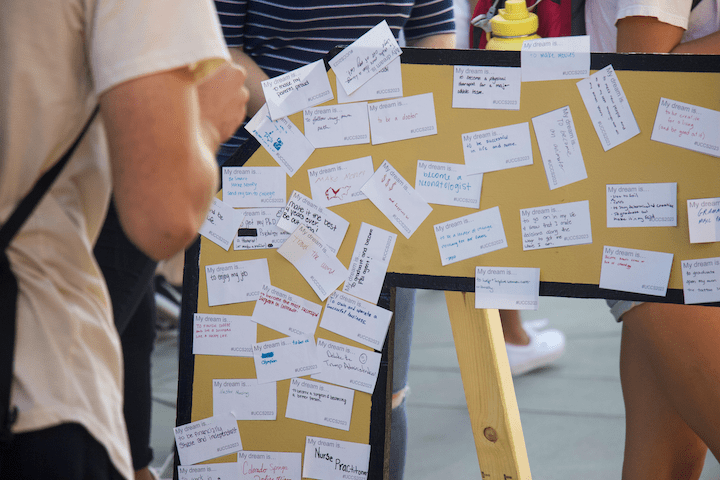 Campus leaders welcomed the newest members of the UCCS community at the annual convocation ceremony August 22.
Nearly 1,800 first-year students marked the beginning of their undergraduate degree journey at the program – so many that Chancellor Venkat Reddy addressed students in Gallogly Event Center and Provost Tom Christensen addressed those in Berger Hall.
In a change of plans from last year, students attended the convocation ceremony in the morning before walking to their Gateway Program Seminar class, a required course for first-year students at UCCS.
In their remarks, Chancellor Reddy and Provost Christensen shared memories of the start of their own academic journeys and advised students that they would find success by creating community.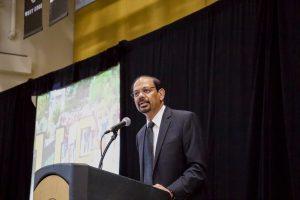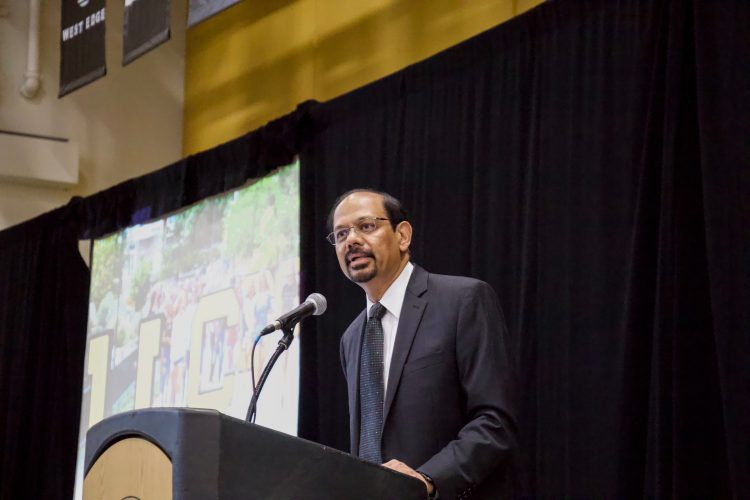 "I want you to know that I did not succeed in earning my master's degree, or my doctorate degree, at Penn State alone," Reddy said as he reflected on moving from India to the United States in pursuit of higher education. "I leaned on my family. I leaned on my friends. I did not forget my community at home in India. Instead, I kept them with me, and I also created a new community to support me here in the United States. Their strength gave me strength, and that helped me succeed."
"In order to be successful in any of my degree programs, I had to find and create a community," Christensen remarked. "A community that believed in me – but also helped me to believe in myself and my potential to do great things. So know that in many ways, I see myself in all of you. And know that there is a community here that believes in you already."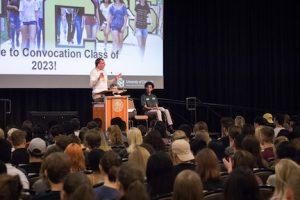 Both Reddy and Christensen encouraged students to introduce themselves to the people sitting next to them. 
Reddy stated that as first-year students began to branch out on campus, they would find "plenty of people who are very similar to you, and plenty of people who seem vastly different." 
"Each of them will contribute to your growth as a person," he said. "They will teach you how to see the world from a perspective that is very different from your own." 
Reddy and Christensen encouraged students to focus on a vision for their future success. Each first-year student used markers and highlighters to write their dreams for the future on stickers, which they placed on large cut-outs of letters spelling "UCCS" on their way to class. 
"Ultimately, you are in charge of creating your own destiny," Reddy said. "Everyone on this campus is committed to your success. And everyone on this campus believes in you, and believes in the vision that you have for your future."
"We are here with you every step of the way, cheering you on," he said. "And on your graduation day, we will be looking back in awe of how far you have come." 
Convocation also included an official welcome from the Student Government Association President JayJay Porcadilla and Vice President Philip Oke-Thomas. The two led the new students in the UCCS Creed, which outlines collective values for all students.