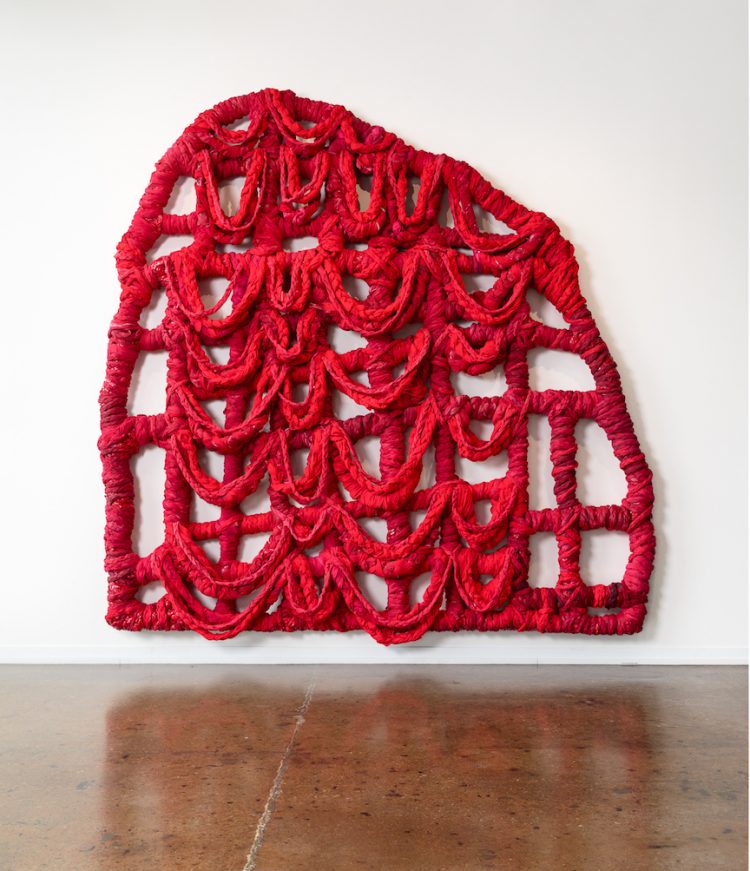 Vadis Turner, a Nashville-born artist who explores female experience, intergenerational wisdom, rites of passage and gender roles, often through the lens of her own family history in the southern United States, will present "Megaliths" in the UCCS Galleries of Contemporary Art fall exhibition. A public artist reception and artist lecture will take place from 5-8 p.m. Sept 5, at the Marie Walsh Sharpe Gallery of Contemporary Art at the Ent Center Center for the Arts. The reception and lecture are free and open to the public, and refreshments will be provided.
Location: Marie Walsh Sharpe Gallery of Contemporary Art in the Ent Center for the Arts, 5225 N. Nevada Ave., Colorado Springs, CO 80918

Opening events: Artist reception, Thursday, Sept. 5, 5-8 p.m., with artist lecture at 6 p.m. Free, pre-registration is requested.

Dates and hours:

Vadis Turner: Megaliths is on view Sept. 5-Dec. 8, 2019
Gallery hours: Thursday-Saturday, 1-8 p.m.; Sunday, 1-5 p.m.; or by appointment
www.galleryuccs.org for more details
Turner embraces both formal technique and traditional handiwork methods to create lush abstract assemblages and architectural sculptures.
In this newest body of work created specifically for the UCCS Galleries of Contemporary Art solo exhibition "Megaliths," Turner investigates the Neolithic era and the shift from a hunter-gatherer society to one centered around agriculture and cultivation/control of the natural world. In this most recent body of work, Turner's works inhabit and claim both the walls and the floor of the gallery. While the exhibition is composed of distinct artworks, it is meant to be experienced as a single installation. Through this body of work, she seeks to upend assumptions of masculine versus feminine materials by melding domestic materials (bedsheets) with what the artist refers to as "macho" forms and shapes.
After a decade of living in New York after graduate school, Turner moved back to her home of Nashville in 2014, where she lives and works with her husband and two sons today.
Vadis Turner received the Joan Mitchell Foundation Sculptors & Painters Award in 2016 and has exhibited across the US and abroad, including the Brooklyn Museum, Brooklyn; National Gallery, Prague; Andy Warhol Museum, Philadelphia; Frist Art Museum, Nashville; Bass Art Museum, Miami; Hunter Museum of American Art, Chattanooga, Tennessee; Islip Art Museum, Islip, New York; National Museum of Trinidad, Trinidad; and the National Museum of Women in the Arts, Washington D.C.
This exhibition is the first to receive support from the newly-created Bill Burgess Emerging Artists Fund, in support of the artists exhibiting at the UCCS Galleries of Contemporary Art.
GOCA is a regional hub of contemporary art, culture, and conversation. Independently producing exhibitions and programs through a collaborative approach with artists of national, international and regional significance, GOCA engages both UCCS and the greater community in understanding contemporary culture. GOCA is a contemporary arts organization with two galleries – the flagship Marie Walsh Sharpe Gallery at the new Ent Center for the Arts, and a satellite location opened in 2010 in the Plaza of the Rockies building in the heart of downtown Colorado Springs. For more information, visit www.galleryuccs.org or www.uccspresents.org.