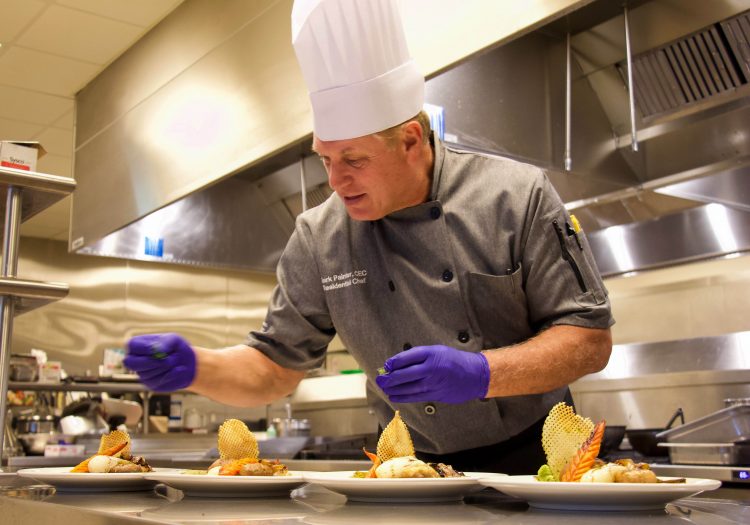 "Food doesn't have to be complex," says Chef Mark Painter, the new residential chef at Roaring Fork Dining Hall. "It can be, but it doesn't have to be. That's the Italian mentality, to me – just keep it natural, keep it as it is." 
Later, in the Roaring Fork kitchen, he demonstrates exactly what he means as he sautés, flambés, seasons and garnishes a platter of "veggies nine ways". Each of the nine vegetables in the dish is prepared differently: the carrots julienned and marinated in blue agave, the onions caramelized, a tomato grilled in fennel vinaigrette, mushrooms flambéed with sherry wine. Painter carefully finishes each plate with a crispy waffle-cut potato standing upright in a bright green pea puree, topped with a balsamic drizzle.
Painter champions fresh and local produce, prepared sustainably, with less waste. His approach to food is evident in every bite. Many of the vegetables come from the UCCS Farm, and each one is packed with flavor – yet tastes distinctly like itself.
Painter, who started at UCCS in June, is excited by the challenges presented by a student body with changing food allergies and dietary preferences – partly because they match up with his own values. 
"If you have allergies, and you eat your local produce, it's better for you," he says. "It's good for you to eat the foods right where you live. We have all kinds of different allergens that we work with, and I think that there's just going to be more in the future…I like it. It makes cooking a challenge." 
"Vegan food excites me the most," he says. "It's so much more challenging. I've done a lot of vegetarian food in my life, but not as much vegan food. So I'm learning a lot about what I can do here."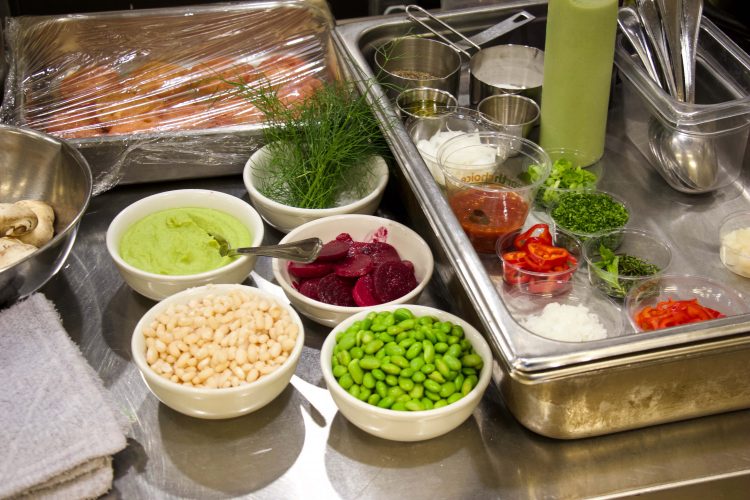 Painter is new to UCCS, but he's not new to the cooking scene in Colorado Springs. The Springs native began his culinary journey in 1974 – washing dishes at Sambo's Restaurant – before moving up to become a line cook within a year. 
"I was a breakfast cook," he says. "Spatulas in each hand." 
After following the Sambo's job to Virginia and Idaho, Painter landed back in Colorado Springs. He spent a decade cooking in progressively finer-dining establishments, eventually taking on his first chef position in 1984. His resume is packed with classic chef positions across the city: the El Paso Club, the Briarhurst Manor, and the Cliff House in Manitou Springs. 
Though he has spent the majority of his professional life in Colorado Springs, Painter did take an eight-year stint in Hawaii. 
"That was really tough," he says, laughing. "I opened a really beautiful resort there called the Hyatt Regency Waikoloa and was the chef at one of the restaurants there. I went to other restaurants after I left that job, and I spent eight years in Hawaii just having a blast." 
Whether he's cooking for a school or a Hawaiin resort, Painter's roots in classically-prepared food are evident. Even his beautiful "veggies nine ways" dish is a callback to his background: cooking garde-manger. 
According to Painter, "Garde-manger is cold-food cooking. You do pâtés, and galantines and ballottines, decorated ham chiffon. A lot of it is an old, passé-style kind of cooking, like when they used to do beautiful buffets where everything is beautiful to the eye." 
"There's nothing wrong with it," he says. "It's just a lot of work to make things so elaborately beautiful. So now I do a lot of things with vegetables to make them look good." 
Painter is a life-long learner. On top of his credential as a Certified Executive Chef, he's added qualification as a first-level sommelier and skills in carving decorative ice sculptures. 
He's also a teacher. After twenty-five years of cooking, Painter became a culinary arts instructor at Pikes Peak Community College. 
"I'm a self-taught chef," Painter says. "I got that gig because I was a CEC – a Certified Executive Chef. I taught there for eight years, and I started thinking, 'Wow, I'm giving people a degree that I don't even have.' So I took my night classes at Pikes Peak Community College and got the culinary arts degree as well. I'd love to get my bachelor's here at UCCS." 
He continues, "I kind of went the back way around. I got a degree after 25 years of being a chef. But I love the teaching part…I don't know why it sunk in one day, but I looked around at my students one day and I thought, 'I love this. This is good.' Because you're giving. You're giving to the world." 
Painter envisions different ways of bringing his skills and experiences to the UCCS dining scene. He spent 10 years on a farm, raising ducks and chickens and growing produce in greenhouses, and plans to integrate the food produced by the UCCS Farm more fully into the Roaring Fork kitchen. 
He also plans to bring his 13 years as a culinary arts instructor to UCCS by teaching more students to cook simple, healthy foods. 
"This is our future generation here," he says. "If I can give them good food and teach them some things, it'll be really good." 
Polly Knutson, business systems and marketing manager for UCCS Dining and Hospitality, agrees. 
"[Cooking classes are] something that students want, too," she says. "They ask us for that. The fact that we have a professional who's passionate about food who can come in and teach them the right way to cook, and to cook healthy and clean, and for them to be able to see behind the scenes too, and really see what he's producing – it's going to be amazing. It's going to be a gift for our students."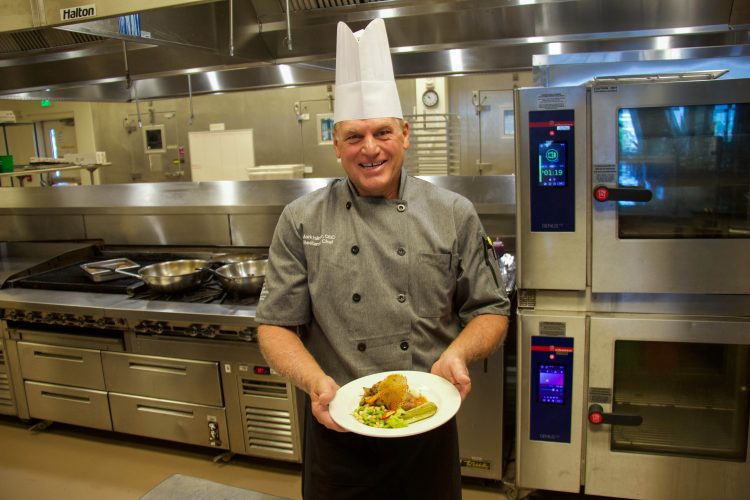 The Roaring Fork will open to campus at the start of the school year on August 26. 
Meals from Painter and the rest of the culinary staff are available to residential students as part of their meal plans. The dining halls are also open to faculty, staff, non-residential students and the general public at $8 for lunch and dinner. Faculty and staff aware of students coping with food insecurity can request meal vouchers for non-residential students, usable at Roaring Fork Dining Hall or the Lodge.