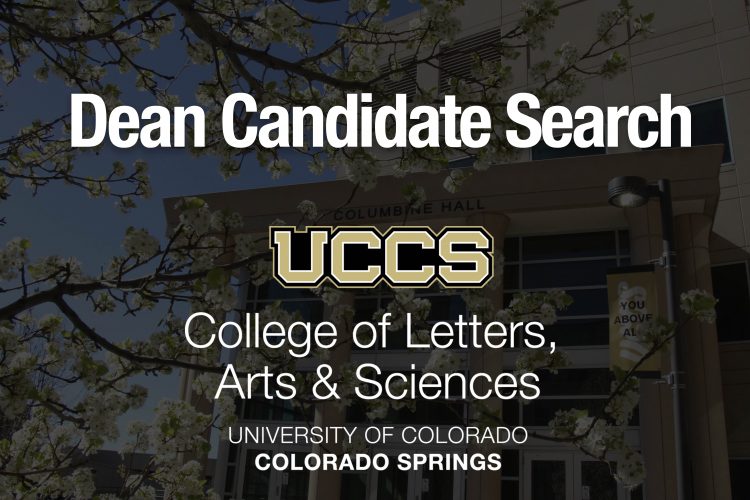 Provost Tom Christensen appointed a 13-member committee to assist in the search for a new dean of the College of Letters, Arts & Sciences.
Valerie Martin Conley, dean of the College of Education, will chair the committee of UCCS faculty and staff representatives. The committee is charged with reviewing candidates and recommending finalists. The position will be the chief academic and administrative officer for the college and reports to the Provost and Executive Vice Chancellor for Academic Affairs.
Robert "Rex" Welshon, professor in the Department of Philosophy, started as interim dean January 1, 2019.
The committee will be aided by the search firm Odgers Berndston. The complete application and instructions are available through Odgers Berndston. The priority deadline is August 23, 2019.
The committee members are:
Erica Allgood, Senior Instructor, Director of the Department of Communications
Bob Camley, Director, Biofrontiers Institute Distinguished Professor, Physics Department
Lisa Durrenberger, Senior Instructor, Department of Biology
Sam Frank, IT, LAS Dean's Office
Cerian Gibbes, Associate Professor, Department of Geography and Environmental Studies
Leslie Ginsberg, Professor, Department of English
Jacqui Hatfield, Director for Finance and Operations, LAS Dean's Office
Zuleika Johnson,Assistant Director of Development, University Advancement
Ron Ruminski, Professor, Department of Chemistry
Raphi Sassower, Professor, Department of Philosophy
Kimbra Smith, Associate Professor, Chair, Department of Anthropology
Melinda Utoft, Compliance, Human Resources
Glen Whitehead, Associate Professor & LAS Co-Director, Bachelor of Innovation™

Head of Brass/Trumpet/Composition/Improvisation/Interdisciplinary Arts