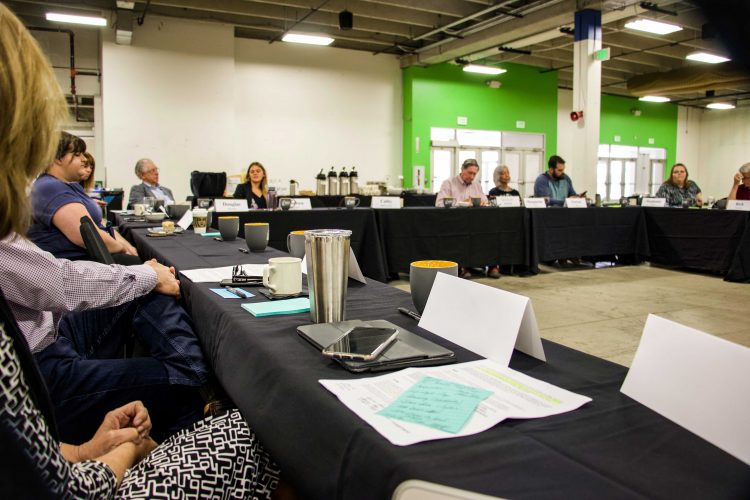 The redevelopment of the North Nevada Avenue corridor south of UCCS will have a significant impact on the future of the university, including with students' experience at UCCS and in building pride among future UCCS alumni.
Those were among several insights from a focus group of UCCS alumni who met this month at the Cybersecurity Building on North Nevada Avenue. The focus group immersed itself in the issues and opportunities surrounding the corridor's redevelopment and possible impacts on UCCS, particularly from an alumni perspective. The building, housed in a former manufacturing plant, is owned by UCCS.
The focus group included alumni from the 1970s, 1980s, 1990s and 2010s, two city of Colorado Springs planning staff members and local developer Kevin Kratt, who developed University Village Colorado west of UCCS.
The group agreed that redevelopment of the corridor could help elevate Colorado Springs as a "lifestyle" city. Alumni put forward ideas for the corridor that included:
housing for students, families and employees in the area
transportation along North Nevada Avenue and up to the campus that could include light rail, shuttles and even a cog-type rail
creative re-use of the historic buildings in the area
high-density planning
shopping, restaurants and art venues that crated a fun atmosphere where students and alumni want to spend time
a gateway to the central and downtown part of the city
internship and job opportunities for students.
Ideas from the focus group will be presented to university and city leadership. A second focus group will be held this summer. Alumni who are interested in getting involved can contact Nicole Tugg at [email protected].
Learn more about redevelopment plans here: https://coloradosprings.gov/planning-and-development/page/renew-north-nevada-avenue