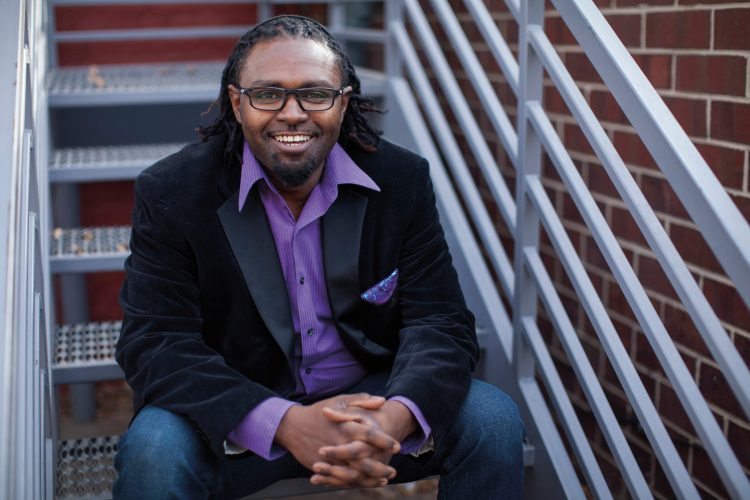 Medically discharged from the military, Marcus Pumphrey ('09, '18) felt a bit lost about what path to pursue next.
"I quickly knew the job direction I was headed involved no passion, so I enrolled at UCCS in 2005 to find it," he said, "and I found exactly what I was looking for."
He earned two degrees in 2009, a bachelor of science in history and a bachelor of science in political science, both with honors. Marcus held several jobs, including in higher education, but after a while "I just realized this is not what I want to do," he said.
Marcus's mother, a retired elementary school teacher, had suggested he teach children. To explore the possibility, he met with Beth Cutter, a UCCS senior instructor in the College of Education and coordinator of the Alternative Licensure Program.
"We had a great conversation about my goals and my ideals on education," Marcus said. "It was an awakening for me. I just left there like why I didn't do this 22 years ago, and I ask that question every day."
He enrolled in ALP and joined Panorama Middle School in 2017 as a sixth-grade social studies teacher. The school is in the Colorado Springs neighborhood where he grew up. "A lot of the kids I'm teaching, I went to elementary school with their parents. It's pretty awesome," he said.
In 2018, he earned a master's degree in curriculum and instruction from UCCS. He was recognized that year as part of the Colorado Future Educator Honor Roll for demonstrating strong instructional skills, encouraging student engagement with relevant lessons, and for helping students understand their roles and responsibilities in a democracy. His colleagues referred to him as "a role model of professionalism."
"Teaching allows me to provide a point of view through a different lens," Marcus said. "As a minority male, I did not have any teachers who looked like me in all of my education, so this perspective is seminal."
His goal is to become assistant principal or principal — with the help of UCCS, where he plans to complete the Principal Licensure Program in 2019.