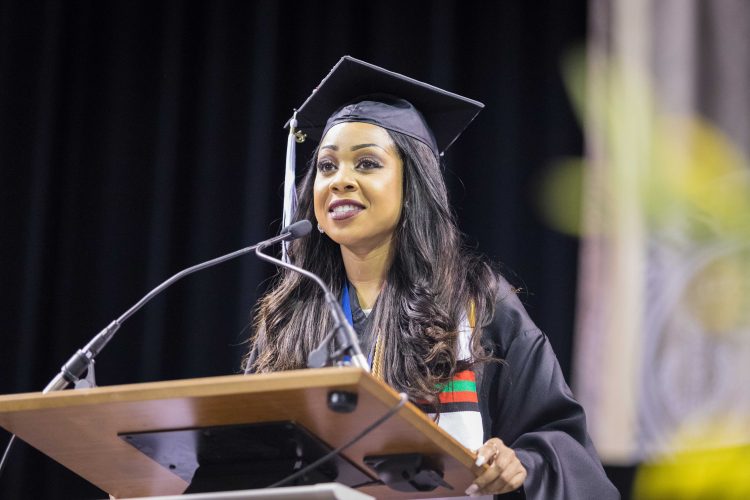 Victoria Asuquo told her classmates not to be afraid of failure when starting on the journey that lays ahead of them as she delivered the keynote for the morning ceremony of the 2019 Spring Commencement at Broadmoor World Arena.
"Do not let the fear of failure keep you from embarking on the new journey that lies ahead because failure isn't a simple event, but failure is when you allow your pains and your disappointments to become your identity," Asuquo said. "Worrying about failure does not empty tomorrow of its sorrows, it rids today of its strength."
Asuquo, who earned her bachelor's degree in biology, shared how a stranger's words of encouragement helped make a difference in her life.
"That girl and those few bold sentences made all the difference in my life. It repainted the canvas of my world with hues of yellow, splashes of green and shades of red. I discovered that the most valuable currency in this life is love."
Asuquo said that in her four years at UCCS, she took the opportunity to learn, grow and serve. She thanked her family who inspired her to work hard, stay focused and to remain humble and kind.
"Today, graduates, we commemorate what it means to be a mountain lion at this remarkable university. And as easy as it is to think about how much further we have to go, we must remember how far we have come.
"You are more than your setbacks and your barriers – you are builders, you are innovators, you are researchers, you are educators and you are caretakers. You are more than a number or score, you are equipped, you are capable, you are loved."
Asuquo spoke to the graduates as one of two Student Achievement Award winners. UCCS conferred degrees on more than 600 students during the morning ceremony who completed their academic programs in the spring semester in the College of Letters, Arts and Sciences. Nearly 450 participated in the morning commencement ceremony.
— Photo by Jeffrey M Foster