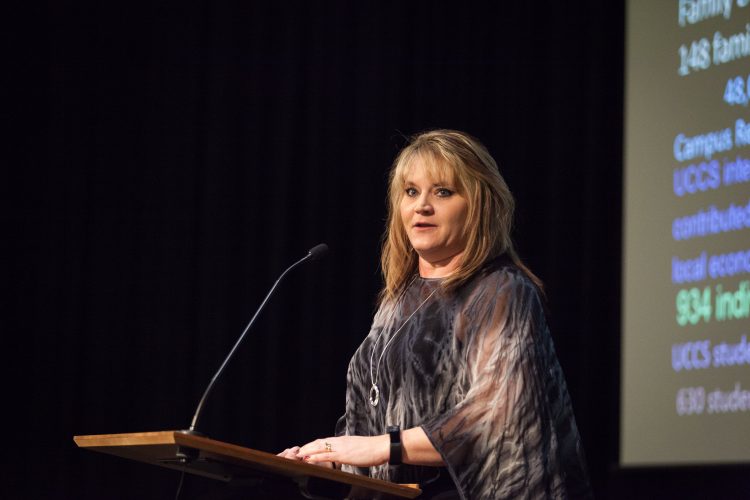 Nearly 200 faculty and staff learned about current resources to address employee and student well-being, brainstormed how to create a culture of well-being on campus and visited with campus and community wellness partners in the Chancellor's Town Hall Feb. 5 in Berger Hall.
In the last year, students used the Wellness Center more than 16,000 times, and nearly half were for mental health and psychiatric services. While the mental health services team has grown from one person to nine in the last 10 years, a wait list of 60 students still remains to be seen.
"This is not a wait list we can afford to keep going," said Chancellor Venkat Reddy in his opening remarks. Reddy and the other CU chancellors have identified student mental health and well-being as one of their top focus areas for the immediate future.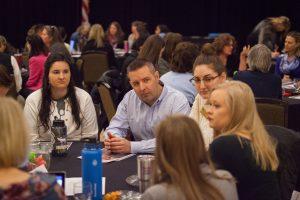 UCCS is piloting a resiliency program with resident assistants in partnership with Children's Hospital Colorado, and new programs and initiatives are underway according to Stephanie Hanenberg, executive director of health and wellness, and the current president of the American College Health Association. A new peer support and mentoring program is under development within the CU system and a grant was secured for a social norming campaign around mental health. The CU campuses will be part of a new survey by the ACHA in March that will help identify the services current students need the most.
Faculty and staff joined with the two Regents in attendance, Chance Hill and Lesley Smith, to brainstorm at their tables how to create a culture of well-being on campus. Volunteers reported out ideas that employees should model positive behavior, more trainings to help employees identify mental health struggles, increased visibility of the topic and for people to be open about their own struggles. The feedback from each of the tables will be used to help identify new services for students and employees.
Attendees also had 20 minutes to meet individually with campus providers and community partners in areas like fitness, nutrition, sleep, mental health and sustainability. Each table also included takeaway documents on the Be Colorado program through the CU Health Plan, and a summary of available resources for employees and students on campus.
Previous coverage
New hotline helps all CU employees find support for everyday stress or mental illness