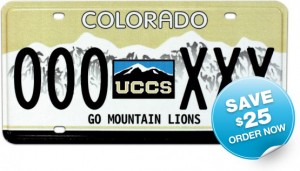 A program that allows UCCS faculty, staff, students and alumni to display school pride on vehicle license tags will celebrate its first anniversary with a sale.
Jennifer Hane, director, Alumni Relations, announced the birthday celebration as part of efforts to sell at least 500 license tags, the minimum required by the Department of Revenue for the program to continue.
"This is a great way to display your pride in the university," Hane said.
A portion of the proceeds supports student scholarships at UCCS and is tax deductible.
To learn more about the program or to purchase a license tag, visit http://www.uccs.edu/alumni/benefits/plates.html or call Hane at 255-3180.