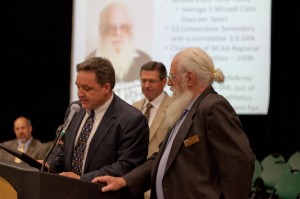 With characteristic humbleness, Charlie Shub, professor, Department of Computer Science, accepted a proclamation from the CU Board of Regents June 22 lauding his role as the faculty athletics representative to Mountain Lion Athletics.
For 17 years, Shub served as the faculty athletics representative, a position required by the NCAA to help ensure that student-athletes meet classroom standards in addition to those set on the court, field, or track. The position also serves as an unofficial watchdog for collegiate athletic departments.
Shub was lauded for the five UCCS student athletes selected as Academic All Americans in the past 17 years and more than 400 selected as academic all-conference selections, including a record 53 last year. He was also credited for creating a policy that defined the number of classes a student can miss while participating in intercollegiate athletics.
"The credit goes to the student-athletes themselves —  they completed the assignments and took the exams," Shub said. "It was EPUS, and its then chairman, Tom Napierkowski, who drafted the attendance guidelines that I brought forward. And I believe true academic integrity comes from an AD who believes in it and coaches who subscribe to that philosophy."
 Shub attended many men's and women's games where he got to know many of the student athletes, according to Steve Kirkham, director, Athletics. He worked closely with the Athletic Department to identify problems and brainstorm solutions including conducting exit interviews of student athletes. He was consulted on matters that included dropping or adding sports programs and the hiring of new coaches.
"Charlie Shub has been a terrific faculty athletics representative for me to work with," Kirkham said. "He has always put the student-athletic and their welfare first and foremost. Whether working with administration, coaches or faculty he has upheld the mission of athletics at UCCS. His work has been instrumental in the 14 straight semesters the athletes have achieved a 3.0 or better and the increase in graduation rates."
In addition to serving as the faculty athletic representative, Shub served as a member of the NCCA Region Seven Postgraduate Scholarship Committee and the NCAA Division II Regional Men's Soccer Committee.
Shub will take leave without pay for the 2012 academic year. A new faculty athletics representative will be announced at a later date, according to Kirkham.
— Photos by Jeff Foster, University Advancement