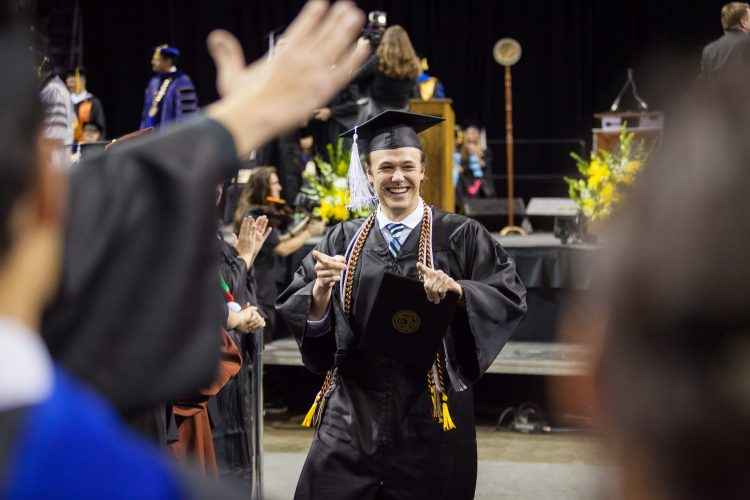 UCCS conferred degrees to 1,072 students, and more than 550 graduates joined 6,000 family, friends, faculty and staff in the fall commencement ceremony Dec. 14 at the Broadmoor World Arena.
UCCS awarded 20 doctoral degrees, 245 master's degrees and 807 bachelor's degrees, a record for the fall and summer commencement ceremony.
Chancellor Venkat Reddy, CU President Bruce Benson and this year's distinguished alumni shared words of wisdom with the new graduates.
"In the end, your honesty, your word, your reputation and your integrity are all that you have – don't lose them," Benson said.
Reddy encouraged students to embody the values of UCCS in their personal and professional lives.
"We will use our differences and agreements to advance our community, nation and the world," Reddy said. "Our principles are the foundation of how we address both challenges and create progress."
Mark Hawkins (MBA '86) spoke to the class of 2018 as the 10th annual distinguished alumni. Hawkins is the president and CFO of Salesforce.
"This is what makes your class so important, it's the energy, optimism, commitment and urgency I feel in this room today, a commitment to let nothing stand in your way of becoming true world problem solvers with measurable impact," Hawkins said.
UCCS also recognized members from the Class of 1993 who returned on the 25th anniversary of their graduation.