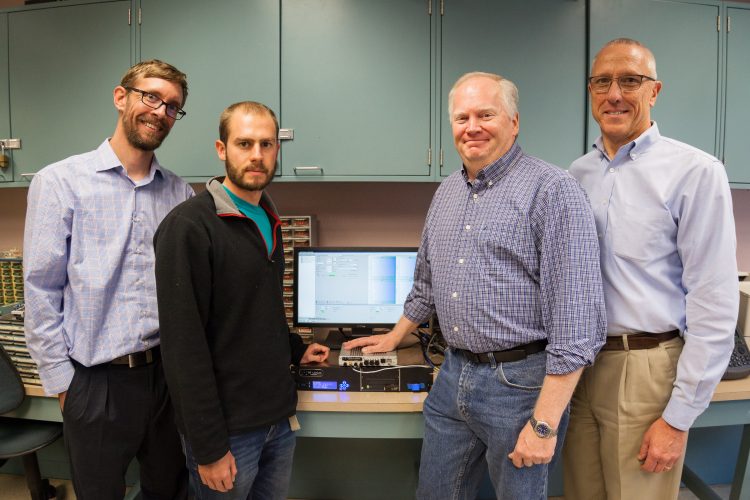 UCCS electrical engineering students will now be able to study and analyze communication signals between platforms such as ground stations, satellites, airplanes, UAVs/drones, or missiles thanks to an in-kind gift of a channel simulator from Kratos and its local subsidiary, Kratos RT Logic. This provides UCCS students with the ability to easily create signals in the laboratory that precisely match those that occur in space or in Earth's atmosphere.
"The channel simulator is a great tool to generate realistic space, atmospheric and terrestrial signals for test, experimentation and instruction," said Michael Clonts, channel simulator product manager at Kratos. "Students can analyze and visualize what happens to signals as they propagate. This will help students design communications systems and waveforms that tolerate natural signal effects as well as accidental and purposeful interference. The system allows students to easily create propagation scenarios, model antenna, platform and multi-path properties, and create tropospheric effects, such as refraction, fog, rain and clouds."
"The channel simulator donation will enhance the hands-on learning experience in our Signal Processing and Communication Laboratory," said TS Kalkur, professor and chair of the electrical and computer engineering department. "It will also greatly enhance our research capability for faculty and graduate students."
Frank Backes, senior vice president of SATCOM products at Kratos said, "We are extremely pleased to partner with the College of Engineering and Applied Science, its fine students and its accomplished faculty. This donation is just one aspect of our expanding relationship with the university, and we look forward to additional opportunities to partner with UCCS in the future."
The University of Colorado Colorado Springs, located on Austin Bluffs Parkway in Colorado Springs, is one of the fastest-growing universities in Colorado. The university offers 46 bachelor's, 23 master's and five doctoral degree programs. UCCS enrolls about 12,000 students on campus annually and another 3,300 in online programs. For more information, visit www.uccs.edu.