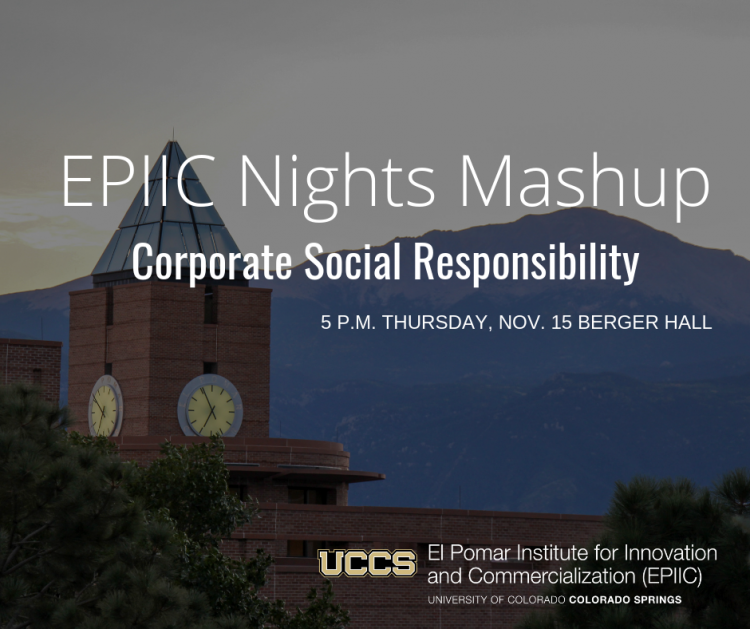 A debate on whether companies should exist solely for profit or contribute to social and environmental concerns happens 5 p.m. Nov. 15 at Berger Hall.
Jonathan Liebert, CEO and executive director, Better Business Bureau of Southern Colorado and Colorado Institute for Social Impact, will join Joshua Dunn, professor and chair of Political Science, to debate and discuss corporate social responsibility during the free El Pomar Institute for Innovation and Commercialization Nights Mashup.
"I am very excited about this conversation because more and more businesses are creating a blended approach to profit and purpose to attract the right workforce, sell more products and create impact in communities where they operate," Liebert said. "This mix of mission and margin is showing us that there is another opportunity for business to differentiate themselves in the market and create more value for customers."
Liebert is an adjunct professor in the College of Business and teaches business, government and society for upper division students. He is a recognized leader in Colorado by the Beanstalk Foundation and was a 2016 Colorado Springs Business Journal Rising Star recipient. He serves on eight boards across the Colorado Springs community, including the Colorado Nonprofit Association, Pikes Peak Workforce Investment Board, PPCC Business Advisory Committee and the Pikes Peak Small Business Development Center Advisory Board.
Dunn is the executive director for The Center for the Study of Government and the Individual at UCCS. His research and teaching interests include public law, education policy, and political theory. He is the author of three books and is a frequent source for the media, including the New York Times, Wall Street Journal, Washington Post and more.
The event is free and open to the public, but registration is required. Register here.