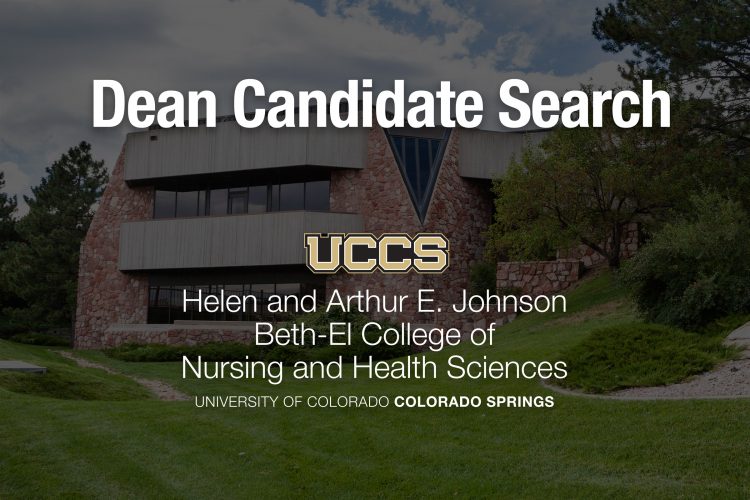 Provost Tom Christensen appointed an 11-member committee to assist in the search for a new dean of the Helen and Arthur E. Johnson Beth-El College of Nursing and Health Sciences.
Susan Taylor, associate vice chancellor for undergraduate education and academic planning, Academic Affairs, will chair the committee of UCCS faculty and staff representatives, and community members. The committee is charged with reviewing candidates and recommending finalists. The position is the chief academic and administrative officer of the college, which includes approximately 1,400 students. Enrollment is projected to double in the college during the next five years with expansion in the areas of anatomy, nursing, physiology, exercise science and physical therapy.
Amy Silva-Smith, professor, Nursing Department, started as interim dean July 1. She replaced Nancy Smith, who retired June 30 after 10 years as dean and a nearly 50-year career in nursing practice, academia and teaching.
The priority deadline for candidates is Oct. 15, and applications can be submitted through CU Careers.
Taylor's committee members are:
Carlotta Bell; manager of finance and administration; Helen and Arthur E. Johnson Beth-El College of Nursing and Health Sciences
Melissa Benton; associate professor, Nursing Department; Helen and Arthur E. Johnson Beth-El College of Nursing and Health Sciences
Amanda Elder; associate professor, Health Sciences Department; Helen and Arthur E. Johnson Beth-El College of Nursing and Health Sciences
Art Hayes, employee relations and HR consultant, Human Resources Office
Molly Larson; executive assistant to the dean; Helen and Arthur E. Johnson Beth-El College of Nursing and Health Sciences
Bill Lueck, co-executive director, William J. Hybl Sports Medicine and Performance Center; Centura Health
Kay Miller, chief nursing officer, UCHealth Memorial Hospital
Jeff Spicher; associate dean for clinical affairs, DNP coordinator, and associate professor, Nursing Department; Beth-El College of Nursing and Health Sciences
Andy Subudhi; professor and chair, Biology Department; College of Letters, Arts and Sciences
Corrie West, associate director, Development