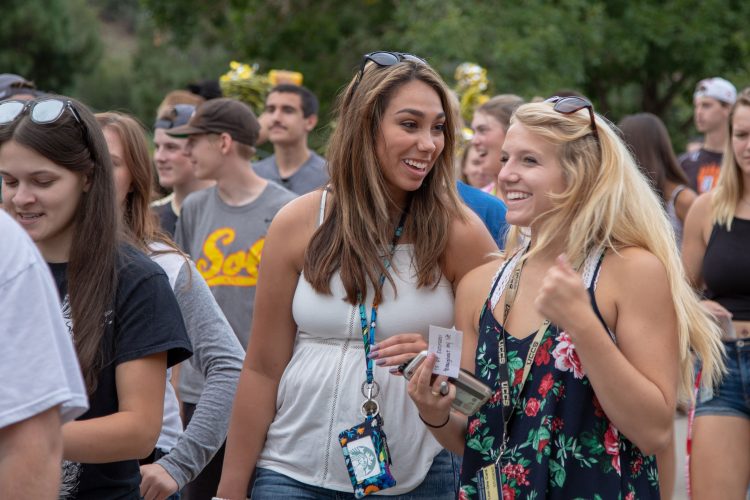 Campus leaders welcomed nearly 2,000 freshmen in the official start of the collegiate careers August 15.
Split between Berger Hall and the Gallogly Events Center because of the size of the incoming class, Chancellor Venkat Reddy and Provost Tom Christensen encouraged students to become involved and to utilize the multiple programs designed to help students succeed at UCCS.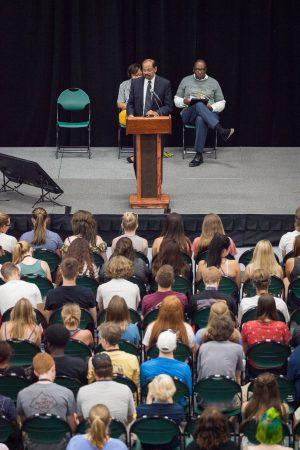 "Our faculty and staff are going to be right there with you on this journey, and they definitely want you to succeed," Reddy told the freshmen in Gallogly Events Center. "They were once students themselves, but they've also helped hundreds and thousands of students achieve their goals."
Each of the students wrote down their dreams on large stickers that were later placed on UCCS letters after the convocation address. Students could write down an academic or personal goal, or write their future dreams, and it could be funny or serious. Students were also asked to take a selfie at the start of convocation, a mirror to one of the final parts of the annual commencement exercises when graduates are asked to do the same thing.
"Four years from now at commencement, when you look back at your selfie, pat yourself on the back and look how far you've come," Christensen said to freshmen in Berger Hall. "Congratulations on the journey you're about to embark upon. And remember, we're with you every step of the way cheering you on."
Convocation also included the official welcome from the Student Government Association President Sierra Brown and Vice President Laveen Knoshnaw. The two led the new students in the UCCS Creed, a student-led initiative in 2016 that outlines the values for all students.
— Photos by Savannah Waggoner and Jeffrey M Foster