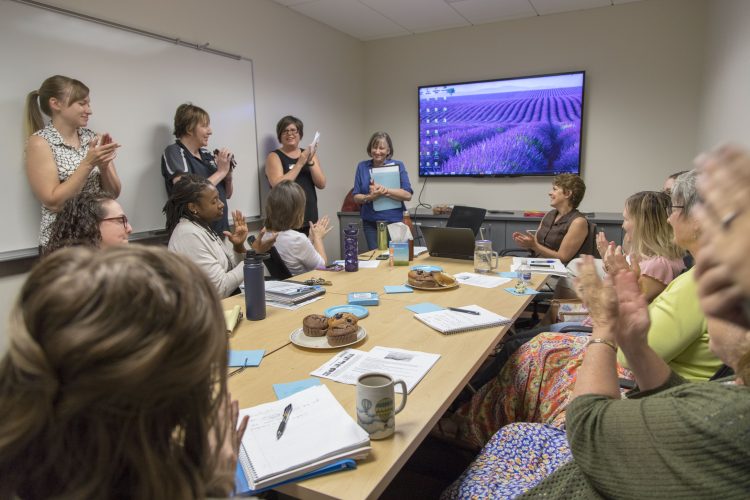 Janet Fritz, business services program manager, Veterans Health and Trauma Clinic, is known as a miracle worker by her co-workers.
After struggling to find an appropriate level of care for a veteran whose mental health had deteriorated, Erin Fowler, clinical therapist, Veterans Health and Trauma Clinic, went to Fritz for support.
"Instead of simply listening and supporting me (which she did as well), Janet took my mission. She did not stop until she had contacted the right people, said the right things, and until the veteran was able to get into the desperately needed treatment," Barker said. "In working her magic, Janet not only went above, beyond, and outside her job – she quite literally saved the life of this veteran."
This dedication to clients is one of the main reasons Fritz was named the April-June 2018 Employee of the Quarter.
The Veterans Health and Trauma Clinic helps patients recover from psychological challenges associated with military service, natural disaster, domestic violence, auto accidents, sexual assault or first responder trauma as well as a broad range of anxiety, mood and eating disorders.
"Janet spends hours on the phone with insurance companies to make sure clients can continue treatment with as little disruption as possible," Fowler said. "In that instance, she spent several hours outside her traditional work hours to meet the needs of the client. This is not unusual for her."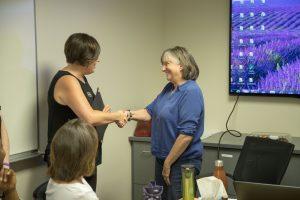 Fritz works with insurance companies to authorize treatment and process claims, helps new clients understand the medical insurance system, handles denial disputes and more.
"I'm very grateful for the team I work with," Fritz said. "I couldn't do what I do without their help."
Fritz joined UCCS four years ago after working in a medical clinic in Wisconsin and social services for Teller County.
"Many of our clients are quite ill, and Janet is a big reason why this clinic is as successful as it is in providing a safe space for them to come and get the treatment they need," Lisa Barker, neuropsychologist, Veterans Health and Trauma Clinic, said.
Fritz's best part of her job is her team. "I work with a great team of people that all care about the clients," she said. "It's not always easy to find a place where everyone cares about what they do."
"Ms. Fritz has been able to establish positive relationships with the clinic team, our partners and clients. As a result, clinicians feel comfortable coming in to talk with her for support. Clients have commented they find her to be warm and welcoming and that she makes them feel safe and calm at the clinic," Valerie Anderson, director, Veterans Health and Trauma Clinic, said.
Outside of work, Fritz volunteers at Happy Cats Haven, a no-kill cat shelter, and camps and hikes at various national parks.
In recognition of her efforts, Fritz will receive a $100 stipend, three months of a free and reserved parking space, a $40 voucher to the UCCS Bookstore and one day of administrative leave as part of the award.