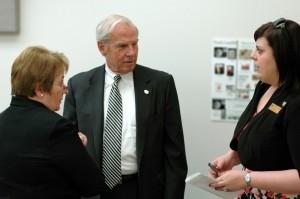 CU President Bruce Benson told faculty and staff he appreciated efforts to cooperate within the campus, the university, and with other Colorado higher education institutions during a Town Hall meeting Friday morning at the University Center Theater.
"We're making a lot of very good progress at the university during very challenging times," Benson said. "I'm really proud of all the people who work here because you're all putting your shoulder to it and getting things done."
In a broad-ranging update, Benson praised UCCS-led efforts such as the Southern Colorado Education Consortium of two- and four-year colleges and universities as an example of progress during difficult economic times. He also provided updates on the state budget, efforts to make the university more efficient, improved outreach efforts, and explained research into a state ballot initiative to support higher education.
A statewide ballot initiative to support higher education is an idea that likely won't happen in the next year or two, Benson said. He cited citing a general anti-tax mood in the state and a general perception that CU is doing well as obstacles to such an initiative.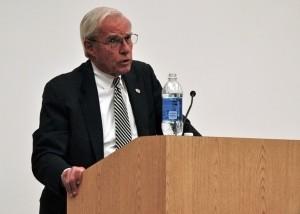 CU's budget remains under discussion within the Colorado General Assembly.
"The cut was at $146 million last night but that may have changed by this morning," Benson said.
Benson encouraged those in attendance to remain positive as the General Assembly continues its work.
"Over these last three years doing these cuts strategically and carefully has positioned us well," Benson said. "We've been prepared and we're ready for it although we don't like it."
He briefly touched on efforts to make CU more efficient, citing changes in procurement and travel that he believes will help save money. A program piloted at UCCS that allows employees and their dependents to take courses without charge was cited as an example of supporting staff and faculty during difficult fiscal times.
Improved outreach, including a branding initiative, helps Coloradans and CU alumni who live in other states understand the university's needs and its strengths, Benson said, and is important to the university's future.