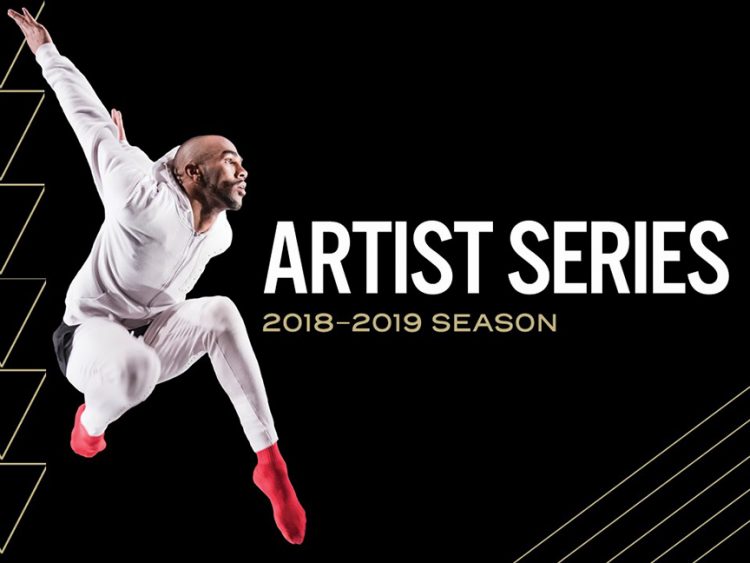 With the opening of the Ent Center for the Arts in spring 2018, the Artist Series held an auspicious debut season in two of the best new venues in the state: the Shockley-Zalabak Theater, the Ent Center's largest venue with seating for nearly 800, and the Chapman Foundations Recital Hall, designed to be one of Colorado's highest-quality acoustic spaces. Most of the upcoming season's events will take place in the Shockley-Zalabak Theater, but there will still be plenty of opportunities to experience the Chapman Foundation Recital Hall's acoustic excellence and intimate atmosphere.
The 2018-19 Artist Series season features world class music, dance, live performance, and National Geographic Live presentations from top scientists and adventurers. Highlights from the upcoming season include superstar pianist Yefim Bronfman, the legendary Blind Boys of Alabama, five-time Grammy-winner Dianne Reeves, the world-renowned Bill T. Jones/Arnie Zane contemporary dance company, virtuoso guitarist Kaki King, and the internationally-recognized Takács String Quartet. The Artist Series continues to collaborate with local arts leaders through co-presentations with the Colorado Springs Philharmonic and Ormao Dance Company, as well as with the UCCS Theatre and Dance Program.
The 2018-19 Artist Series is designed to take audiences on a journey through a broad spectrum of top-notch performances. Don't miss out—subscribe today and join us for an unforgettable season. For a complete list of performance dates, and to purchase tickets, visit uccspresents.org.
"The 2018-19 Artist Series is a dream season for me, with master artists alongside new voices I am excited to share with you.

The venerated works of the past anchor our experiences and expectations. Colorado's beloved Takács String Quartet returns to Colorado Springs after nearly 25 years, while Yefim Bronfman, one of my many favorite pianists, is sure to impress with his masterful interpretations of the piano repertoire.

But new experiences are the spice of life, and one of my goals for the Artist Series is to make space for new works and voices. Bill T. Jones/Arnie Zane Dance Company and Kaki King reimagine traditional performance paradigms, while the Pedrito Martinez Group's fresh, soulful sound represents the new generation of Latin jazz. In a first for the Artist Series, I'm proud to announce we are co-commissioning with Sō Percussion a new work by award-winning composer Suzanne Ferrin.

After such an incredible response to our 2017-2018 inaugural run, I'm proud to bring you another year of world-class events that are sure to engage and inspire. This season is sure to be the talk of the town, and you won't want to miss out. See you in the fall!"

-Aisha Ahmad-Post
Director, Ent Center for the Arts
MUSIC
This season maintains the Artist Series' commitment to bring the best in music to Colorado Springs. It kick things off with the dynamic chamber ensemble SYBARITE5, who transfix audiences with what the Sarasota Herald Tribune describes as "classically honed technique mixed with grit and all out passionate attack." Always on the lookout for new works and composers that speak with a unique and relevant voice, SYBARITE5 will present the group's favorite commissioned works.
For over 500 years, the Vienna Boys Choir has maintained a reputation as a highly selective group of young choristers. This peerless ensemble will perform selections with the Colorado Springs Children's Chorale. And for the first time in decades, the world-renowned, Colorado-based Takács String Quartet performs in Colorado Springs.
Yefim Bronfman, one of today's most acclaimed and admired pianists, will captivate the audience with his commanding technique, power and exceptional lyrical gifts. So will pianist Martina Filjak, recognized as a rising star with her poetic passion, technical mastery and magnetic stage presence. Composer and guitarist Kaki King's thrilling combination of visuals and virtuosic musicality, encapsulated in "The Neck is a Bridge to the Body," reimagines the guitar as a projection screen. The modern percussion ensemble Sō Percussion invites adventurous and curious audiences to experience a performance of "Amid the Noise" that will spark enthusiasm and curiosity.
JAZZ
A strong jazz lineup features prominently in the season. The Pedrito Martinez Group boasts an energetic, Afro-Cuban style anchored by the award-winning percussion of Pedrito Martinez. Vocalist René Marie borrows elements of folk, R&B and even classical and country to create a hybrid style, with work that reflects the human experience and spirit. With clever songcraft and sensual vocal delivery, she will perform selections from her first album of all-original material, "The Sound of Red."
The Vijay Iyer Sextet, a group of virtuoso jazz improvisers who will perform selections from their album "Far From Over," offers a confident style that showcases a wealth of jazz history coupled with bold innovation. Grammy-nominated bandleader and composer-pianist Vijay Iyer has been described by Minnesota Public Radio as "an American treasure." He has been voted DownBeat Magazine's Artist of the Year three times—in 2016, 2015 and 2012—and Artist of the Year in Jazz Times' Critics' Poll and Readers' Poll for 2017. Iyer was named Downbeat's 2014 Pianist of the Year, a 2013 MacArthur Fellow, and a 2012 Doris Duke Performing Artist. In 2014 he began a permanent appointment as the Franklin D. and Florence Rosenblatt Professor of the Arts in the Department of Music at Harvard University. Here's what JazzTimes has to say:
"Iyer is the most celebrated pianist in jazz—he may be the most celebrated musician in jazz right now—and that gives him great creative license…Like the greatest pianists in jazz history—Bud Powell, Art Tatum, Thelonious Monk, Bill Evans—Iyer could never be mistaken for anyone else."
HOLIDAY
This season also presents a holiday selection to remember, as Dianne Reeves spins a jazzy rendition of Christmas classics in "Christmas Time Is Here." The Blind Boys of Alabama, known as both living legends and modern-day innovators, perform songs from their "Talkin' Christmas!" album as well as the band's previous Grammy-winning Christmas recording, "Go Tell It on the Mountain," and their Gospel classics. Featuring the UCCS Army ROTC Color Guard, Theater Latté Da's "All Is Calm" poignantly retells the moment when Allied and German soldiers celebrated Christmas together during the Christmas truce of 1914.
DANCE
The season's dance lineup begins with the esteemed Bill T. Jones/Arnie Zane Dance Company performing choreographer Bill T. Jones's "A Letter to My Nephew," an impressionistic collage for nine dancers using movement motifs that reference a troubled life in showbusiness. Ballet Folklórico de México de Amalia Hernández presents renewed productions of the company's classic choreography, blending the music, dance and costume of Mexican folklore from pre-Colombian civilizations through the present. In "Aroundtown," David Dorfman Dance (DDD) uses its trademark empathy, sly humor, and highly athletic physicality to create a kinetic poem that examines unique notions of love, accompanied by original music, text, and visuals. Ballet West II performs a mixed repertoire including mostly new work.
NATIONAL GEOGRAPHIC LIVE
The season features a trio of National Geographic Live presentations, opening with NASA engineer Kobie Boykins and an inside look on the effort to explore Mars. Explorer, scientist, and Emmy-nominated TV presenter Mireya Mayor shares stories, images, and film clips of her adventures, offering a look at the hardships and rewards of life in the field. Mountaineer Hilaree Nelson O'Neill recounts leading a team of elite climbers on a grueling attempt to climb a remote peak in Myanmar.