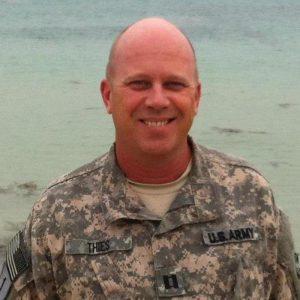 Funeral services for retired Army Maj. Anthony "Tony" Thies, 47, a former faculty in the Department of Military Science, will be at 2 p.m. July 23, at the Soldiers Memorial Chapel, 6333 Martinez St. Fort Carson, Colorado. He died July 17, 2018, from injuries suffered in a car accident. 
Thies taught multiple military science courses within the U.S. Army ROTC Mountain Ranger Battalion program through spring 2017. He was also a member of the Committee on Academy Progress for the College of Letters, Arts and Sciences.
Before his arrival at UCCS, Thies was deployed eight times with operations in the Middle East and Eastern Europe. He completed Officer Candidate School at Fort Benning in Georgia in 2004. 
Guests without a U.S. Department of Defense ID will need to enter Fort Carson through the Visitor Center at Gate 1 at least one hour before the start of the service.
His family published the following obituary:  
Anthony "Tony" Stephen Thies
December 27, 1970 – July 17, 2018

Anthony "Tony" Thies (MAJ, ret) 47, of Colorado Springs, Colorado passed away on July 17, 2018 as the result of a car accident.

He was the devoted husband of Wendy (Strable) Thies with whom he had recently celebrated 25 years of marriage. Tony was an amazing father to Mackenzie and Alexandria, a devoted son to Robert and Susan, an adored brother to Brian (Nikki). He was a fantastic son-in-law and brother-in-law to Ron and Nancy Norris, Will (Ann) Carroll, James (Emily) Norris. He was a fun uncle to many nieces and nephews and a cherished friend to everyone who knew him.

Tony eventually became old Sarge after he enlisted into the Iowa National Guard in 1988. He further enlisted in the regular Army as a 11M in 1993. Tony was an exemplary Soldier, Squad Leader, Sniper, and Drill Sergeant. In 2004 Tony commissioned as an Infantry Officer via the Officer Candidate School, Fort Benning Georgia. Tony was deployed 8 times to Operations Desert Storm, Able Sentry, Joint Guard, Kuwait in support of Enduring Freedom, Iraqi Freedom I, Iraqi Freedom 06-08, Enduring Freedom 10-11, and Enduring Freedom (Spartan Shield).

Tony was a leader at all company level positions, Company Commander, Future Operations Planner, and Professor of Military Science at UCCS in Colorado where he retired August 31, 2017. He was currently employed by MILVETS as a Collective Trainer.

Tony was an entertaining chef, a gun enthusiast, and an award winning brewmeister at his garage-based brewery Iron Forge Brewing. Tony loved his cars and most of all BMW Motorsport. He was an active member of the Eurotic Car Club, M Flight, Brew Brothers Homebrew Club, BMW Car Club of America, Military Order of the Purple Heart, and the Military Officer Association of America.

Despite wanting to be seen as a grumpy old Sarge, Tony was thoughtful, honorable, inspirational, entertaining and a bit saucy. He was revered and idolized and will be missed by all who worked for and with him. A reception will follow the funeral service, please join us to celebrate his love of life.