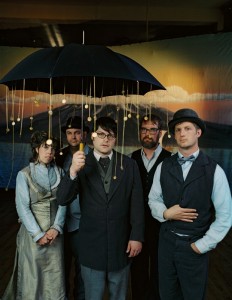 One of the most popular indie folk rock bands of the decade, The Decemberists, will perform at UCCS April 16.
Fresh from the release of their sixth album, "The King Is Dead," the Portland, Ore. band will perform at 7 p.m. at the Gallogly Events Center. Tickets are $15 for UCCS students, $20 for other students and military members and $25 for the general public. Tickets are available at Tickets West or any King Soopers.
Released in January, "The King Is Dead" reached number one on the U.S. Billboard 200 chart on Feb. 5. The song, "Why We Fight," reached number 21 on the U.S. Alternative Songs Chart. Known for writing story-songs, often with an academic twist, the group is considered one of the most unique bands to emerge in the 2000s. The band formed in Portland and is led by Colin Meloy. Other members include Nate Query, Chris Funk and Jenny Conlin.
"It is exciting to have a band of this caliber play UCCS," Mitch Karstens, student activities coordinator, Office of Student Life and Leadership, said. "They've got a new album out and there's talk of them taking a break from recording – this may be one of the last chances to hear them perform live for a very long time."
To see a biography of the band, as published in Rolling Stone, visit http://www.rollingstone.com/music/artists/the-decemberists/biography
The event is part of UCCS efforts to provide programming of interest to current UCCS students, Karstens said. The event will also likely attract high school students and students at other colleges to campus, a plus for recruitment efforts. Last year, Boulder-based 3OH!3 played for an inaugural event at Four Diamonds. That show was interrupted by a spring thunderstorm followed by hail and snow.
"This year, we're indoors in our first major event at Gallogly," Karstens said. "It's going to be a great venue and a great show."