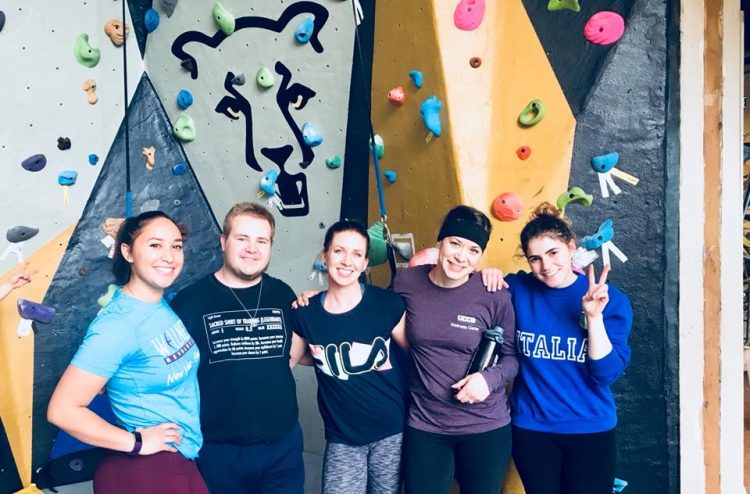 A free program designed to get the UCCS community moving together helped UCCS earn its fourth consecutive Gold Level Campus designation in the Exercise is Medicine on Campus program.
The Fitness Buddies program, spearheaded by health care science students Cynthia Lewis and Kimberly Humphrey, matched students with a buddy to provide motivation, accountability and support. The buddy program allowed students to select the best buddy based on personal goals.
Lewis and Humphrey both earned their bachelor's degrees at the spring commencement ceremony and are enrolled at UCCS to start the master's program in health promotion this fall. Jessica Kirby, senior instructor, Helen and Arthur E. Johnson Beth-El College of Nursing and Health Sciences, provided the faculty coordination on the project. Additional leadership was provided by Katie Gordon, wellness promotion manager, and Dr. Vicki Schober, medical director of student health services, at the Gallogly Recreation and Wellness Center. The team is planning to grow and expand the program for the 2018-19 academic year to incorporate more small groups and faculty and staff.
UCCS was one of 43 universities to earn the gold level, and the only in Colorado. The awards were presented during the American College of Sports Medicine Annual Meeting May 30 in Minneapolis.
Exercise is Medicine on Campus is a program that calls on universities and colleges to promote physical activity as a vital sign of health. The program encourages faculty, staff and students to work together to improve campus health and well-being by making movement a part of the daily campus culture. The program requires assessing physical activity at every student health visit, providing students tools necessary to strengthen healthy physical activity habits and connecting health care providers with health fitness specialists to provide a referral system for exercise prescription.