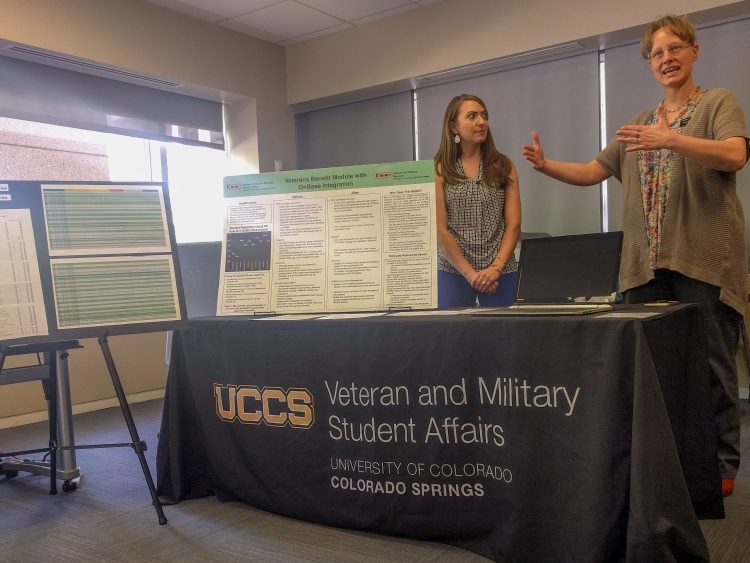 Three UCCS projects that led to greater efficiencies in time or money were recognized as the top projects in the CU system during the Innovation and Efficiency Exposition and Awards Ceremony May 15. UCCS entries claimed three of the five top awards and four of the 10 semifinalist positions.
The new virtual parking permitting and enforcement system, a new method to process and pay utilities and improved benefits processing for veteran and military students were recognized with three awards from the CU Office of University Controller. A peer recognition program in the UCCS Budget Office was also selected as one of the semifinalists.
"Efficiencies help our students, our campuses and our employees," wrote President Bruce Benson in his monthly newsletter June 7. "Our goal is to keep our costs in check so the cost of a CU education remains reasonable for our students."
Each of the three winning submissions received a $1,000 incentive prize that was split among the team members. The 10 semifinalists made presentations at the system office with questions from Benson, Leonard Dinegar, vice president and chief of staff, and Robert Kuehler, associate vice president and university controller.
The UCCS winners:
Virtual Parking: Permitting and Enforcement

Team members: Jim Spice, executive director, Parking and Transportation Services; Matthew Broderick, parking manager, Parking and Transportation Services; Renee Cinkosky, assistant parking manager, Parking and Transportation Services; Natalie Skaggs, administration operations parking manager, Parking and Transportation Services
The system removes the need for paper permits, saving approximately $10,000 a year in printing costs. It lowers the time needed for one staff member to monitor each parking spot from 11 hours to 90 minutes. Staff can also track repeat vehicles without permits, which has been used by law enforcement to recover stolen vehicles left on campus. Users no longer need to pick up permits in person, which sometimes resulted in 2-hour wait times at the start of each semester, or for permits to be mailed. Visitors can also extend parking times by text or mobile app, without needing to go to the car and manually add extra time.

Utility Record Processing

Team members: Mikayla Greenfield, administrative assistant II, Facilities Services; Chavon Harrell, administrative assistant I, Facilities Services; Gary Reynolds (retired), associate vice chancellor, Campus Planning and Facilities Management
Facilities Services transitioned the monthly 75 utility bills into a paperless environment to reduce waste and reduce the time needed to pay bills. Staff also developed a system to integrate energy usage from utility reports for state reports which has been adopted by Colorado Springs Utilities for other multi-building organizations in the city for the same state reports. The implementation of both processes reduced a six-day task into a 30-minute process.

Veterans Benefit Module with OnBase Integration

Team members: Jacqueline Gatlin, associate director, Student Financial Services; Allison Noel, tuition assistant specialist, Student Financial Services; Jennifer Phillips, school certifying official, Office of Veteran and Military Student Affairs; Stefan Garman, PeopleSoft development, University Information Systems; John Hanna, student financials application manager, University Information Systems; Phillip Curry, campus community application manager, University Information Systems; Phillip Jones, document management business systems analyst, University Information Systems
The new system allows students to submit their request for benefits within their student portal each term, which then automatically populates the veterans benefit module within CU-SIS. The system allows staff to track the student population with reports instead of manually and ensures accuracy of student information. The previous process involved paper or Google forms, staff to manually match the student with the benefits, and manually track students for VA reporting requirements. The new process reduces the chance for mistakes to happen, ensures that benefits are accurately processed with quicker speed and for enhanced security of student records. UCCS was the first CU campus to integrate the process for veteran and military student benefits, and has been in contact with the other CU campuses for integration.