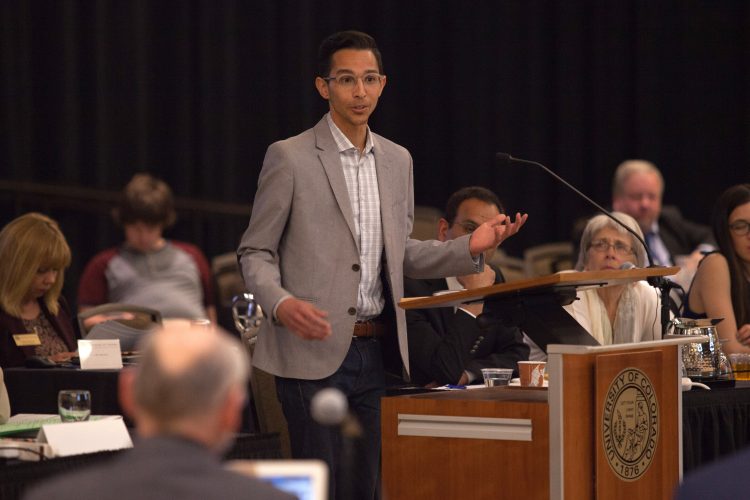 UCCS and CU leaders celebrated the 10-year anniversary of the Bachelor of Innovation program during the host campus report to the Board of Regents April 5 in Berger Hall.
Terry Boult, professor, computer science, and El Pomar Endowed Chair of Innovation and Security, founded the program in fall 2007. When he initially approached the Board of Regents 12 years ago, he wanted to develop skills that employers said were missing from college graduates, like presentation skills, the ability to work in teams, initiative and communication with people in other fields.
The BI program incorporates a core curriculum of innovation courses in addition to the degree requirements for the major. The original program started as a collaboration between business and engineering. Now it includes programs in education, visual and performing arts, communication and women's and ethnic studies. Nearly 500 students are enrolled in one of the Bachelor of Innovation programs.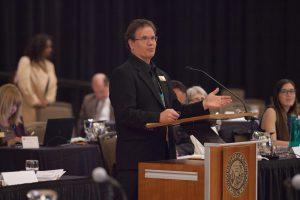 "All of these different majors are in the classroom at the same time working on teams together," Boult said. "It's not just about talking about getting them to understand the other fields, it's making them work together."
"They get to get hands on fast," Nina Polok, executive director, Bachelor Innovation, said. "Every innovation core class is as hands-on as we can make it. They develop competency by doing that. They get to apply an innovation process to everything, it really enhances their problem-solving skills. And they still get a rigorous bachelor's degree."
Two students, Abby Graese and Preston Hare, spoke to the board about how the BI program sets them apart when looking for jobs after graduation.
"With this, I'm starting to look to the future, and I have accepted a position to continue my studies at Notre Dame to pursue a Ph.D.," Grease told the regents. "All of this comes from the opportunities from BI. I've had the opportunity to work with Dr. Boult on computer science research to pursue different opportunities with the BI as well. Our definition of innovation is transforming ideas into impact, and it's definitely done that for me."
Hare told the regents of his story with the BI in developing this business, Lot Spot, which provides parking analytics for owners and can be used by drivers to know where open spots are. He was a member of a UCCS team that won the Chapman University California Dreamin' Entpreneruial Conference and Competition in 2016.
"This degree has changed my life," Hare said. "I would not have had any of those opportunities, any of the knowledge, the tools, without standing on the shoulders of giants. And my giants are Nina Polok, Terry Boult, Coleen Stiles, Angus Chassels, just to name a few of the mentors who have had an impact in my life."
Regent Steve Ludwig, a UCCS alumnus, and Regent Kyle Hybl, who represents the congressional district that includes UCCS, were members of the board when the program was originally approved. Ludwig expressed his enthusiasm about the growth of the program.
"I remember being excited about this at the time, and it's really fun to have the 10-year time frame to see how exciting this continues to be," Ludwig said. "The cross-disciplinary aspect that we know is critical for success in the world and how you practice that and model that is exciting to see. It's fun to be here 10 years later."
The BI program will celebrate the 10-year anniversary April 19 in a gala dinner at the Gallogly Events Center. Emmy Award-winning actor William Shatner will deliver the keynote address titled "Hope and Innovation." Tickets for the dinner remain on sale and can be purchased by calling (719) 255-4048. More information on the event is available at BI10Year.com.