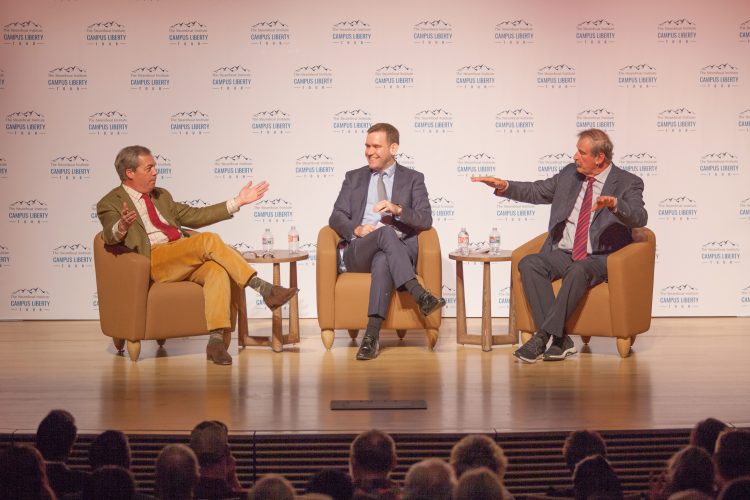 As tariffs and immigration dominate headlines in the United States, two international leaders discussed those issues and many more as UCCS hosted the Campus Liberty Tour April 3 at the Ent Center for the Arts. Nigel Farage and Vicente Fox participated in a moderated debate in front of approximately 550 people in the Shockley-Zalabak Theater.
Farage co-founded the UK Independence Party and led the successful Brexit referendum, which started the process for the United Kingdom to leave the European Union. Fox was the president of Mexico from 2000 through 2006.
"Brexit was indeed, I think, the inspiration for many voters to stand up to this new global order," Farage said in his opening remarks. "I think the great global revolution of 2016 was just the beginning of something extraordinary that is now sweeping across the West. We saw it in the Italian elections just the other week. Folks, the nation-state has made a comeback."
"We eight billion people of this Earth own his home and share this home. God did not create borders," Fox said in his opening statement. "Let's build that better world with love. Let's build it with compassion. Let's build it knowing that we're working for others. That's the shortcut to happiness. That's the world we're building."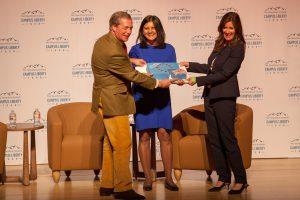 The two leaders exchanged their viewpoints on several prepared questions from Tom Rogan, a columnist for the Washington Examiner, for the first 45 minutes of the debate before he asked questions submitted by the audience. The pair discussed trade, immigration and went into detail on the pros and cons of their respective national and global viewpoints.
The two agreed on multiple topics, including the benefits of free trade and the importance of strong democratic processes. The event featured multiple moments of levity, including a birthday cake for Farage decorated as the flag for the European Union with a piece cut out decorated as the Union Jack for the United Kingdom.
"Too often, we turn to those we agree within to reinforce our opinions," said Venkat Reddy, chancellor, UCCS, in his opening remarks. "Many loud voices fill the room, but you can question whether anyone is listening. It is at these moments that universities serve their highest purpose, which is creating spaces where dialogues occur and people engage with each other in search of truth. These gentlemen have each served their countries and achieved many successes, but have done so with very different views about their country's place in a global community. For students in the room, we want to teach you how to think, not what to think."
The tour sponsored by The Steamboat Institute was brought to Colorado Springs by the UCCS Center for the Study of Government and the Individual. The tour started at CU Boulder April 2 will continue at the University of Maryland April 5 and Lehigh University April 6.
The full debate at UCCS can be viewed here.