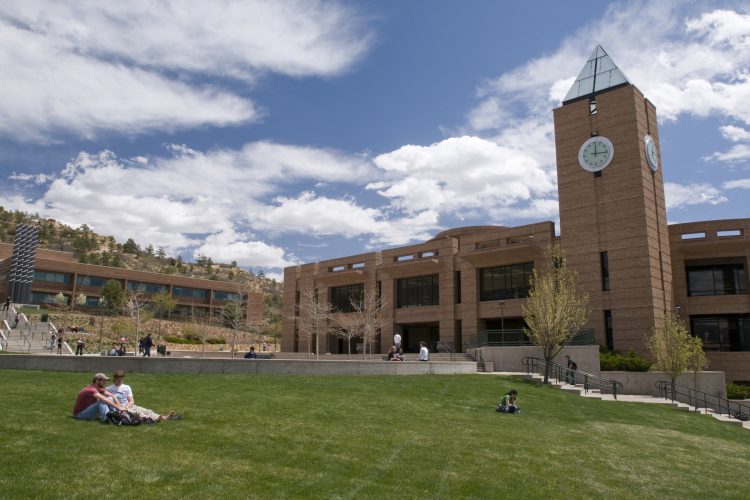 Beau Kelly, associate director, Development, and Sloan Gonzales, lecturer, Communication Department joined four alumni as UCCS connections made up nearly one-quarter of the 25 young professionals recognized as Rising Stars by the Colorado Springs Business Journal. The publication celebrated the work of the honorees at its annual awards ceremony March 29.
Kelly and Gonzales joined alumni Colin Mossbrock, Forrest Senti, Jeremy Shirley and Eric Pizana as individuals younger than 40 who make a difference at their companies and within the community.
Kelly, a current MBA student, builds support for athletics and the Reach Your Peak Scholarship program. He spearheaded private gifts for the new Mountain Lion Park and the soon-to-be-complete Mountain Lion Fieldhouse. He is co-president of the board of directors for Court Care for the Pikes Peak Region, a program that provides free child care for children of individuals who have court-related business. He is also on the board of directors for Colorado Springs Rising Professionals and volunteers as a coach with Academy Little League.
Gonzales, who has a 2010 undergraduate degree in sociology and 2016 master's degree in communication, is a program manager for Leadership Pikes Peak and runs its Women's Community Leadership Initiative where she works with individuals who recently experienced a crisis and/or are going through a transition. She also runs its young professional program, Leadership NOW! to develop leadership skills with a focus on civic engagement. Gonzales teaches intercultural communication and workplace communication courses at UCCS.
Pizana, a 2006 psychology graduate, is the director for volunteer services and community outreach at the Care and Share Food Bank. He expanded the volunteer base and implemented a skill-based program for the nearly 6,200 volunteers who can to contribute in multiple ways. Pizana was previously the executive director of Inside Out Youth Services, the only LGBT youth organization in Colorado Springs.
Mossbrook, a 2016 business graduate, is a financial adviser at Strategic Financial Partners. He is a member of the board of directors for the Colorado Institute for Social Impact, an organization that measures return and builds awareness for businesses that serve a broader social mission. Mossbrook also volunteers for Junior Achievement and Economic Literacy Colorado, and developed a financial literacy program for people with disabilities to build financial independence.
Senti, a 2016 business graduate, is the director of marketing at Maxletics Corporation, a brand influencing organization for elite athletes. He is a program coordinator at Peak Startup and volunteers with Thrive Colorado Springs and the Colorado Institute for Social Impact. Senti's concept for a zero-waste home led to the development of Linted, a business that recycles laundry lint. The material is currently used for sound panels and being developed for insulation.
Shirley, a 2015 business graduate, is an associate broker with the Olive Real Estate Group. He started purchasing rental units when still at UCCS as an investment and became president and owner of University Property Managers. He is a community manager at the Catalyst Campus and is a member of the board at Peak Startup. Shirley was named the Rookie of the Year by the Southern Colorado Commercial Brokers organization.