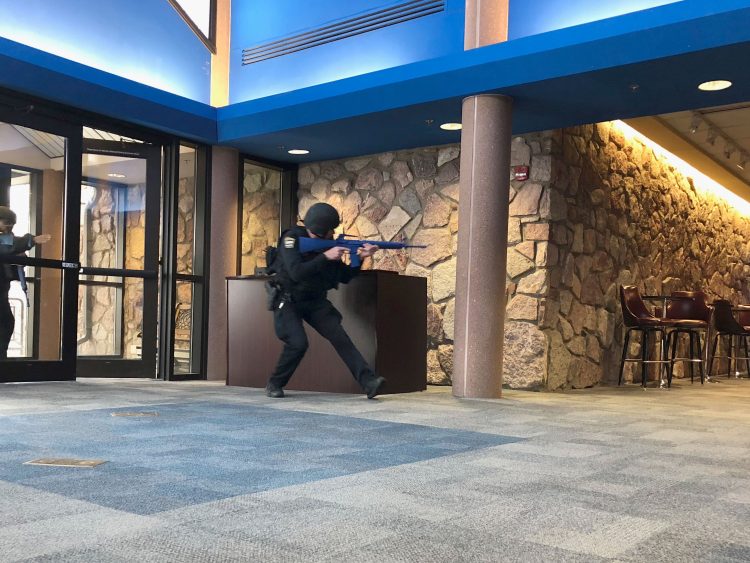 The drill started with a call from dispatch at 7:45 a.m. March 27. Reports were coming in of an active threat at University Hall. Two UCCS police officers responded and moved in to remove the threat, a shooter simulated by a community service officer. Within minutes, the threat was contained.
The responding officers knew an emergency drill was scheduled, but Grant Lockwood, sergeant, UCCS Police, didn't tell them in advance what the situation would be. Even with plastic rifles instead of their traditional weapons, and working on radios that weren't on the police channels, the exercise still provided the adrenaline rush for officers to work through.
Lockwood and other members of the police department shadowed the response of the officers, but didn't intervene. If it had been a real threat, the officers would have been the first on the scene and responsible for making the initial moves to eliminate the threat. After each scenario, the full group conducted a debrief session on what worked and what could be improved.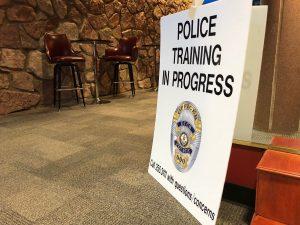 "We want to create a no fail scenario," Lockwood said, meaning the goal was not to identify one officer's response as incorrect, but to provide the opportunity to discuss how different decisions can and could work. It creates a collaborative approach for officers to provide input and to learn from others.
The police department took advantage of the quiet time during spring break and the empty areas of University Hall to maintain a controlled and safe environment for the officers and other users of the building. After the initial set of scenarios at University Hall, officers walked through other buildings on campus to identify how active shooters could be handled within the unique characteristics of the buildings.
UCCS Police encourages students, faculty, and staff to register and maintain contact information with UCCSAlerts for phone and email notifications. All uccs.edu email addresses are automatically registered, and additional email addresses and phone numbers for parents and spouses can be used for emergency notification. Individuals can also register for community alerts through the El Paso-Teller County 911 Authority. Social media will also be used on Twitter (@UCCS_Prepared, @UCCSPolice, @UCCS) and on Facebook (UCCS Emergency Management, UCCS Police, UCCS).