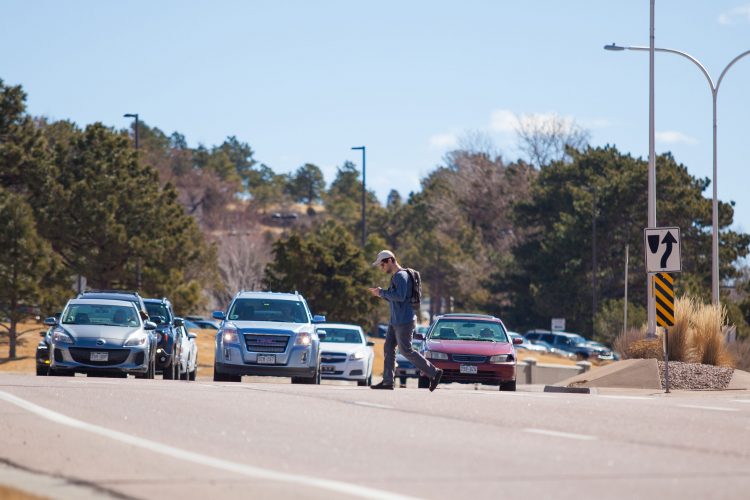 Flashing signs, longer left-turn signals, bridges, underpasses, fencing, education and enforcement were all listed as solutions to enhance pedestrian safety on Austin Bluffs Parkway as roughly 100 faculty, staff and students joined city staff and local law enforcement March 21. A panel of six people, from UCCS, the City of Colorado Springs, Colorado Springs Police Department and Drive SMART Colorado, answered questions on what is being done to maintain safety, and what could be done in the future.
The pedestrian crossing at Stanton Road was where freshman engineering student Zach Schlagel was killed after a driver, who was speeding and ran a red light, hit him when he was legally crossing on Oct. 29, 2017. His mom, Holly, spoke to those in attendance about her son and the impact the tragedy has left on her family.
"There is absolutely nothing that will bring my son back, but I implore you, please, to consider making some changes at the intersection that had a role in causing my baby boy to lose his life," Holly Schlagel told the group. "If there is anything that will help our family, it would be knowing the students and other people who cross that intersection can do so safely."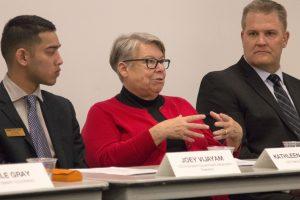 The Austin Bluffs corridor is one of four six-lane, east-west roads in Colorado Springs and sees an average of 44,000 vehicles each day. The road is designed with a 40 mph speed limit because of the curves and hills, but law enforcement for the university and city routinely record drivers in the mid-60s.
CSPD has used its motorcycle unit to enforce speeds, jaywalking and red-light violations. UCCS police also increased traffic enforcement and is writing twice as many tickets compared to a year ago.
"Most of our violations are related to speed and red-light violations," said Clay Garner, deputy chief, UCCS police. "For the short term, we've been researching our own traffic enforcement program which would put traffic units in the field at peak hours. We know the class schedules, we know what we're going to see based on how many classes are going on during certain days of the week and we have better knowledge of when its going to have the biggest impact on traffic and pedestrian crossing."
Flashing lights to indicate when a signal is about to turn red were suggested by students for the intersection at Stanton Road, where drivers make the long drive up the hill towards central campus. Lights to indicate when pedestrians are in a crosswalk, similar to those on Cascade Avenue and North Nevada Avenue at Colorado College were also suggested. Pedestrian crosswalk lights have shown to have negative impacts for both pedestrians and drivers, according to Kathleen Krager, senior traffic engineer, City of Colorado Springs.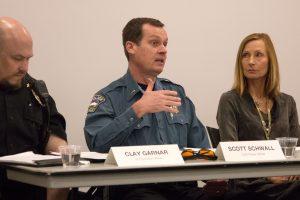 A pedestrian bridge or underpass on Austin Bluffs Parkway was suggested by students, parents who emailed questions and commenters on social media. But panel members expressed concern about considering a bridge or underpass as the ultimate solution because it wouldn't eliminate all of the existing crossings at Meadow Lane, Regent Circle and Stanton Road. The cost and maintenance of bridges would require long-term funding and staffing solutions.
Bad habits by both pedestrians and drivers were identified as potential issues. Even with three crosswalks, students continue to jaywalk across Austin Bluffs Parkway. Pedestrians also don't pay attention to their surroundings and are distracted by mobile devices. Drivers across Colorado Springs tend to average driving 10 mph over posted speeds, which is higher than most cities. A general trend is that more and more drivers no longer take driving education classes and don't learn safe driving techniques.
UCCS and the city are already working together to decrease the traffic load on Austin Bluffs Parkway. An internal road, part of the 2012 master plan, is in the planning stages to make shuttles more frequent and more reliable for those who use the free parking lots on west campus. It would also enhance internal traffic for all users, who could use the shuttles as an option without needing to drive personal cars as often.