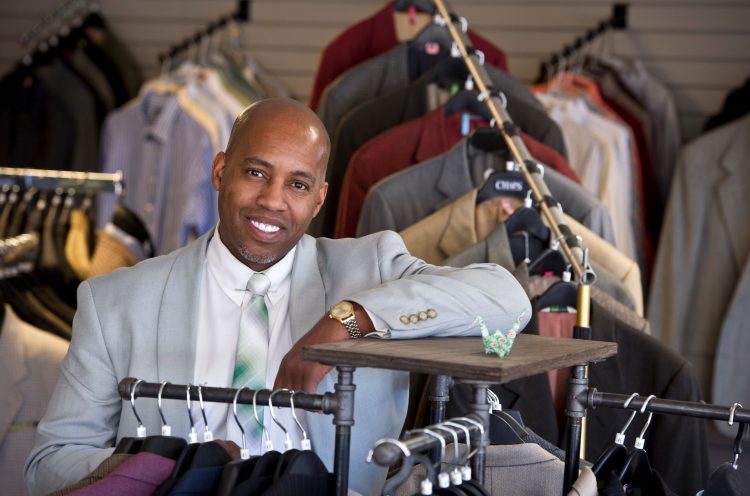 Presented with the opportunity to either continue life as a successful businessman or to shake things up and find a way to help the less fortunate, UCCS alumnus James Proby selected the latter.
To James, the need in the Colorado Springs community was too dire, and he had the skills to help remedy an obvious issue — capable men were missing out on job opportunities because they could not afford a suit.
"How can we make the men in this community better men? Better dressed, more available, how can we make today's men evolve?" James asked himself, leading to the creation of a new non-profit aimed at men in Colorado Springs.
According to James, many communities, much like Colorado Springs, failed to offer support for men down on their luck. He remedied that with his now successful storefront called the Men's Xchange.
The idea to create the Men's Xchange burst forth while James, who at the time had experience as a successful business owner and member of the Pikes Peak Regional Workforce, sought training to teach an entrepreneurial class.
"I saw this need that wasn't being met in our community, and we wanted to provide something brand new. We're pioneers stepping into a whole new space. It's exciting and scary. You don't have a blueprint for what to do."
James provides clean, pressed suits at $40 per person, along with a tailoring service. For those who can't afford $40, James clothes one person for every 10 suits he sells.
"We've had amazing success stories, and as I talk about them, I always get emotional. Most of these men have gone from being unemployed to employed," James said, noting the shop is serving more than 30 men per month thus far and continues to grow. "Two have gone from being homeless to being in their own homes and employed."
He credits his path to UCCS, noting connections he made while earning a communication degree afforded him his first job offer. But UCCS faculty provided more than just a start, they helped him learn after being diagnosed with something that had hampered his education for years — dyslexia.
James first learned he had dyslexia while in community college, and he found the right style of learning at UCCS.
"I came to UCCS and was able to take untimed tests, and it took the pressure off me. It really did make a gigantic difference. Having that kind of compassion has elevated me to incredible heights."
James said his professors were compassionate, propelling him forward to graduation in 1996.
"It was directly because of UCCS that I got my first job offer. Connecting with people who were open-minded, diverse, really made the experience for me at UCCS amazing."
Skills he developed on campus still help him as he curates a community around his non-profit, which continues to benefit veterans, the homeless and others.
"Everything I do is all about the interpersonal communication process. How we're speaking to our customers and helping them is 100 percent of what we do. Communication skills are the best thing I got out of UCCS. That, and the relationships I built there."
–By Mark Belcher, University-wide Marketing. This article original appeared in the "Achieve – UCCS Success Stories" publication.