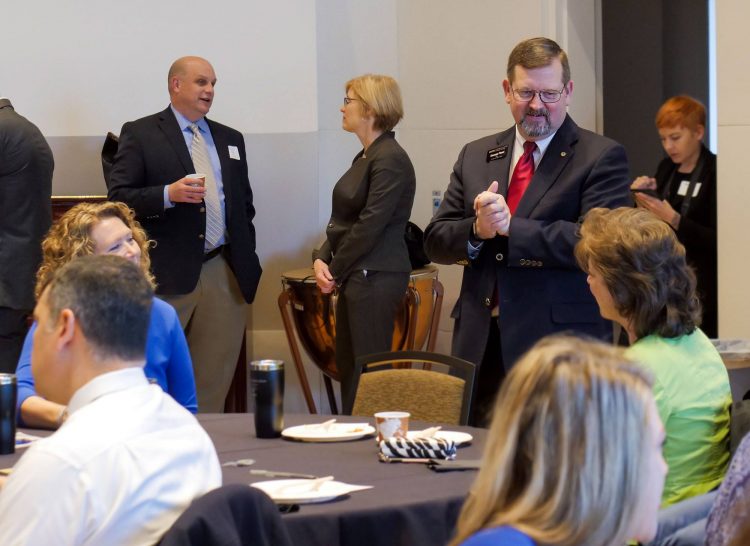 Top rankings and accreditation, expanding programs and a new Public Safety Initiative were among the highlights for George Reed, dean, School of Public Affairs during the first "Breakfast with the Deans" event of the year. More than 35 alumni and friends received a state of the school report March 14 at the Ent Center for the Arts.
"We're no longer that little commuter school on the hill," Reed said. "This is a major, regional, comprehensive university. We're doing extraordinary things. We're making contributions across the board."
The master of public administration program is one of two graduate programs in Colorado accredited by the Network of Schools of Public Policy, Affairs and Administration, and received a seven-year letter during its most recent accreditation process. The online master of criminal justice program was ranked in the top 25 for public institutions by U.S. News & World Report in January 2018.
A grant-writing class secured more than $80,000 for local non-profits in spring 2017 with a 50 percent approval rate. Students completed internships with a value of $350,000 to those organizations.
"A 50 percent grant approval process is remarkable," Reed said. "That was $80,000 that came to organizations in Colorado Springs in one semester that otherwise would not have happened."
The new Public Safety Initiative launched in the fall has already brought professionals, some in groups of 200 at a time, to receive additional training and education for their fields. Sessions have included gang training, leadership development and police mindset.
"We're going out to find the thought leaders and bring them back to the region," Reed said. "We want to take the best ideas and insert them right back into this community."
New programs in social work, a political science and public administration accelerated master's degree, and a sociology and public administration dual master's program are in the planning stages. The school is working on expanding online offerings and creating a community research center to provide program evaluations and resources.
The John Suthers Scholarship is the top fundraising priority for the school. The scholarship provides assistance for junior and senior undergraduate students who seek careers in public service.
"UCCS is a university of opportunity," Reed said. "We are growing, and we are growing fast."