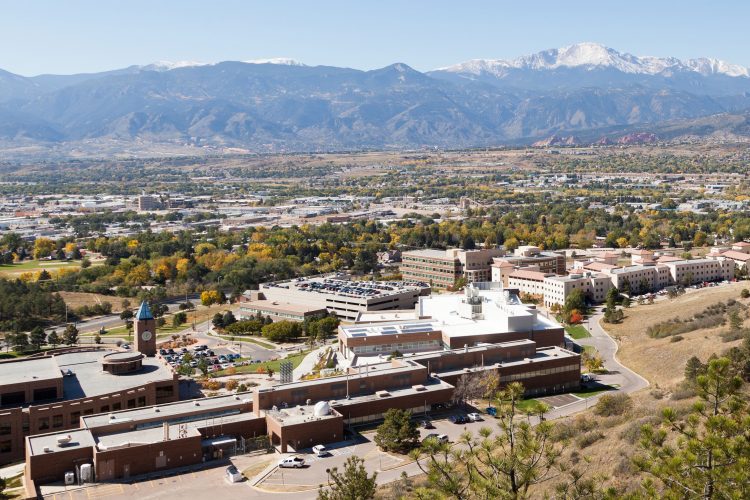 Air Force ROTC students will be able to take courses and participate in training on the UCCS campus for the first time in fall 2018.
The operations will be an extension of Detachment 105 based on the CU Boulder campus, with dedicated faculty and staff located on the UCCS campus. The local unit will allow students who currently travel to Boulder one to three times a week to remain in Colorado Springs and complete the majority of the Air Force ROTC program.
"We had several students who couldn't commit to the program, or couldn't advance in the program, because of the time and resources required to travel multiple times in each semester," said Carlos Garcia, associate vice chancellor, Student Success. "We're looking forward to more students being able to enroll in the Air Force ROTC with these new local resources."
Management of the program's operations will remain with Detachment Commander Col. John Cairney, professor, Aerospace Studies, CU Boulder. Capts. Julio Mueckay and Brandon Witworth will manage the UCCS operating location and will be based in building 1861 at University Office Park.
"The growth of UCCS, and the subsequent increase of students in the Air Force ROTC program, made this a natural progression to offer this opportunity in Colorado Springs," Cairney said. "This will allow us to expand our capacity for students who are willing to take on the challenge."
The Air Force ROTC program is typically a four-year program, but a three-year option is available for interested sophomores. Upon completion at graduation, cadets are commissioned as second lieutenants in the United States Air Force. The Air Force ROTC courses are in addition to a student's current academic major, and positions after graduation are matched based on the student's interest, Air Force Officer Qualifying Test, commander's rankings and current Air Force needs.