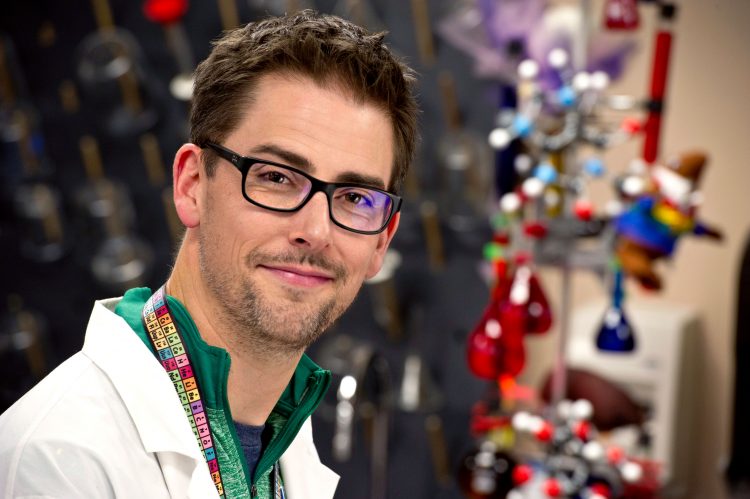 Ryan Johnson grew up in Montana, Mississippi and Alaska, moving to Colorado before high school. After studying political science in Boulder, he took time off. He worked as a paramedic, bartender and 911 dispatcher before enrolling in the UCCSTeach Program to pursue a bachelor of science degree in chemistry.
During his time on campus, Ryan said Laura Zimmerman, senior instructor, Department of Chemistry and Biochemistry, was "incredibly inspirational because of her obvious passion for chemistry. She went out of her way to make research engaging and fun, when it could have been overwhelming and dull."
As a single dad of a daughter, working and attending university was challenging. He pointed to faculty like Zimmerman and David Weiss, associate professor, Department of Chemistry and Biochemistry, as reasons why he made it through.
"Dr. Weiss was never-endingly encouraging," Ryan said. "He took me under his wing and helped shape my dedication and passion for chemistry and the sciences."
In addition, Patrick McGuire, associate professor, College of Education and co-director, UCCSTeach, was "a huge support and very helpful – treated us as professionals and engaged us as such."
Through the guidance of faculty advisors, Ryan attended the UTeach national conference in Austin, Texas, winning the Excellence in Student Research award.
Ryan said UCCS offers tremendous resources while being small enough for students to interact closely with faculty.
Today, as chemistry teacher and science department co-chair at Doherty High School in Colorado Springs, Ryan embodies teaching techniques he learned from the university, including using daily trivia to pique students' curiosity.
Also, to connect with students outside class, he became a cross country coach.
"It's easy for many to give up when faced with an obstacle," he said. "Pushing them on the cross country course pays off – they have more mental fortitude and strength to call upon when they're faced with challenges."
Ryan is grateful for the support and encouragement he received at UCCS, and he said he's thrilled to be able to provide that, in turn, to his own students.
###
This article original appeared in the "Achieve – UCCS Success Stories" publication.