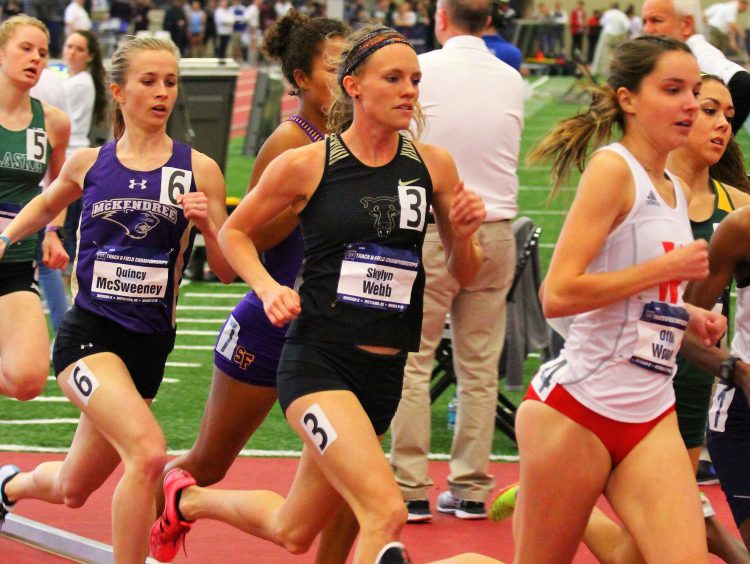 Eight UCCS track and field student-athletes combined for 11 All-America awards and the Mountain Lion women finished No. 13 in the team standings at the 2018 NCAA Division II Indoor Track & Field Championships. It is the highest finish in program history at the national level.
Skylyn Webb's third-place finish in the 800-meter run led the individual performances for UCCS. The RMAC Track Athlete of the Year finished in two minutes, 8.77 seconds in the best individual finish by a Mountain Lion at the indoor championships since 2011.
Molly Klotz and Kayla Wooten each earned a pair of All-America honors in the same events. The pair finished fifth and sixth, respectively, in the mile run Saturday after a sixth-place finish in the distance medley relay with Dejah Glover and Ellinor Enderle Friday. The finish for Wooten in the mile matched her performance at the national championships last season and increased her career All-America total to four awards between indoor track and cross country.
Kaija Crowe, the RMAC Freshman of the Year, also earned two All-America titles between the long jump and pentathlon. She jumped 18 feet, 6 ½ inches on her final attempt in the long jump for a No. 15 finish and scored at least 800 points in three of the five events in the pentathlon for a seventh-place finish.
Kayla Zink rounded out the All-Americans for women's track in a No. 15 finish in the 60-meter dash in 7.58 seconds.
Will Mayhew represented the men's team with a fifth-place finish in the 800-meter run. It was his second indoor All-America title and third overall.
UCCS will move right into the outdoor season March 16-17 at the Jerry Quiller Classic at CU Boulder.